Not many people know that you can maximize your income on YouTube by translating your videos into other languages and also expand into other territories and markets.
This is a growing trend that has the potential to make your channel really take off by engaging new markets you might never have considered. And let's face it, going global is the future.
But which languages do I choose and how much can I earn? You can use this simple revenue calculator to see how much income creators currently make in each language: https://translate.air.io/#revenue 
The wider the potential audience of a video, the easier it is to promote the video. Let's say you have a channel and you decide to enter a new market.
If you plan to do video localization with only subtitles, you will not achieve good results. Even if the video hits the top, a certain percentage of viewers will turn off the video when they hear unfamiliar speech.
How can a blogger make money from video localization?
Data for 2020 shows that US users, as a result of isolation, have become much more likely to use YouTube, including for creating competitive content.
Due to the coronavirus pandemic, many creators have lost a significant amount of their revenue, and brands cut their ad integration budgets. In addition, isolation policies gave rise to a rapid increase in competition on YouTube and other platforms. Almost every blogger has started to publish content more often.
To be competitive, you can choose one of the options provided by AIR-Media Tech.
In this article, you will find many valuable tips for monetizing YouTube videos
For now, let's look at alternative options for generating views.
According to the Influencer Marketing Hub, an average Youtuber makes $ 3-5 per 1,000 video views. But it is worth considering the level of competition because there are 6.6 million channels in the English-speaking market. So the prospect for creators to become famous and increase earnings on their own is minimal.
Translating content, both new and published, can provide significant metric growth for your channel:
The blogger earns additional income by increasing the number of local viewers
Reaching new audiences helps to build a global name and brand loyalty
Content translation as a way out of the crisis
According to information provided by YouTube, content translation offers the following benefits:
Significant income increases
Potentially doubles your audience
Creators achieve popularity in new markets
Let's say your channel is in English. As an alternative stable source of traffic growth and brand development, you can create another channel entirely in Spanish or Italian.
Wondering what language to translate your YouTube channel to? Search the YouTube Creator Studio Analytics to find the geographic locations of all your viewers. This data will help you determine which is the best language to begin to translate content. Here are the steps:
Visit the YouTube Creator Studio and click "Analytics" and follow ADVANCED MODE
Review info in the Audience tab.
Analyzing your analytics is one of the best ways to reach the top! If you are interested in this topic and want to learn how to work with data, watch our video guide.
How to Translate Youtube Videos
Localization of subtitles
Subtitles have long become a common part of promotional videos, like movies, new videos, videos for YouTube channels, and advertising videos.
Localization via subtitles works if the content is unique and of very high quality - then the question of watching and reading isn't complicated but blends together seamlessly and fades into the background.
Some sites, including YouTube, offer automatic translation of subtitles, but it does not always match the original text. The main reason is that such materials do not need to be translated verbatim but localized for a specific country.
How to localize YouTube subtitles? The detailed algorithm.
Select the video you need and go to the Subtitles section;
Click "Add language";
Select a language.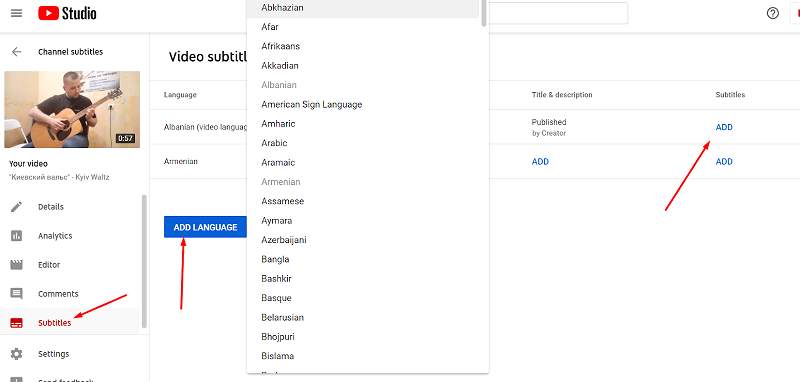 The selected language appears in the subtitle list. To add a local name and description, you need to click "Add".

Next, you have two options:
Upload a text file with subtitles
Print subtitles manually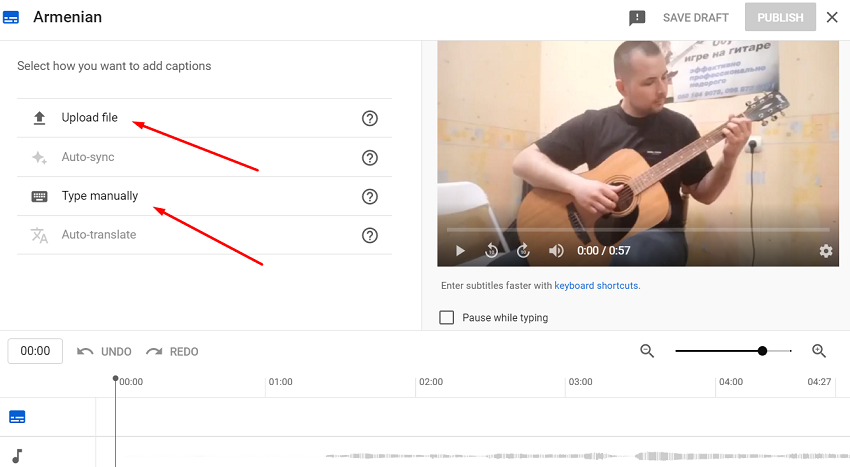 Dubbing video
Contrary to popular belief that the image is crucial for video, research shows that sound is just as important.
This is understandable from a semantic point of view: a video sequence devoid of sound may be incomprehensible or misleading to the viewer. While the sound, even outside the context of visual design, is always informative. Therefore, even an ordinary slide show, accompanied by exciting and high-quality localized voice acting, will be received favorably by the foreign public.
According to statistics, people often do not watch videos to the end because of poor sound and not because of problems with the image.
Note: YouTube has a function to translate subtitles into foreign languages automatically. To activate this feature, go to YouTube Studio and add your preferred subtitle language.
YouTube currently supports automatic YouTube translation subtitles into Vietnamese, Indonesian, Italian, Spanish, Korean, Dutch, German, Portuguese, Russian, Turkish, French, and Japanese.
Localization of YouTube channel for a specific country
When a channel owner already has a lot of content translated in their native language, they can create a separate localized channel in a new language. In this case, for each of the videos, you need to do the following sequence of steps to get high-quality videos.
Creation of a script in a foreign language
Video readout - text recording with time frames and intonation comments
Translation by native speakers
Creating a voice track
Record all characters
Mix a single voice track synchronized in time with the video
Creating a video clip
Create a track with music and sound effects
Mix all audio tracks from video
Edit Subtitles
Have a native speaker check the video translation for any errors
Who Can Help With YouTube Video Translation?
The first option would be to organize the translation yourself using online freelance platforms.
This method is for people ready to invest time and money into creating a translation team of translators, voice actors, and video editors.
Pros:
Cost-effective
You can control all stages of the process yourself
Cons:
It takes a lot of time to find the right people
You would have to control the quality yourself at every stage
You can use platforms such as Fiverr.com, Upwork.com, Freelancer.com to find freelancers that fit your budget.
The second option would be to look for a local professional YouTube translator that can provide an all-in-one solution.
Pros:
The same person translates and does the voice acting. Thus no need to worry about looking for several contractors
Cons:
Expensive
Finding a good service that would fit your needs could also take time
The third option would be a specialized product for content creators that does not require any investments (channels do need to meet specific criteria)
Today, you can find products like https://translate.air.io/ that do not require any investments on the creator's part.
All you would need to do is provide the links to the channel and the videos and the company would do the rest.
Pros:
Zero investment
You save your time and money
Cons:
Your channel would have to meet certain requirements (20 mln+ monthly views)
If you want to learn more about additional sources of income, including content translation, watch our video guide here.
Remember, expanding your channel by localizing it to be discovered by viewers all over the world will allow you to form a diverse and international audience. It will also increase user activity and provide more opportunities for earning. And we, at AIR Media-Tech, are reliable partners to help you get your content out to the world!