In this article, we will discuss what moderation is and how to avoid yellow icons and other YouTube sanctions using the Daily Video Moderation service.
When videos you worked so hard on are finally uploaded to the platform, you want to be sure that they will grow your channel and be attractive to algorithms. What a huge disappointment when something you invested your talent in receives a warning or, even worse, causes your channel to lose monetization.
What if there was a way for you to prevent that and to receive timely channel moderation assistance? The AIR Creators Ecosystem team devised a unique solution to make this possible! Read further to find out about this opportunity.
What is Video Moderation
Viewer safety is important to YouTube, so the platform regularly updates the policies and algorithms. But many creators do not have time to respond to these changes, resulting in strikes and disabled monetization. The longer you don't monetize content, the more money you lose.
To prevent sanctions on new videos, we created a separate service — Daily Video Moderation. With Video Moderation, all new content that you upload to the platform is reviewed daily, allowing you to quickly detect violations and secure the channel from strikes.
How It Works
When our team detects channel violations, we do not apply any sanctions. Our task is to warn you about possible risks and help prevent violations.
In case of violations, we send you a notification in the personal account messenger, in which we:
Identify the violation type
Warn you of risks you may face due to further YouTube sanction
Give recommendations on how to prevent violations to avoid strikes, demonetization, or channel termination
We take several parameters into account at once:
The video must not violate the current platform guidelines.
The video must not infringe copyright.
The title, description, and video tags must not contain prohibited words and spam.
But we did not stop there! We've recently introduced a moderation page in the personal account, where you can see the work of our moderation team, monitor violations, and promptly correct them.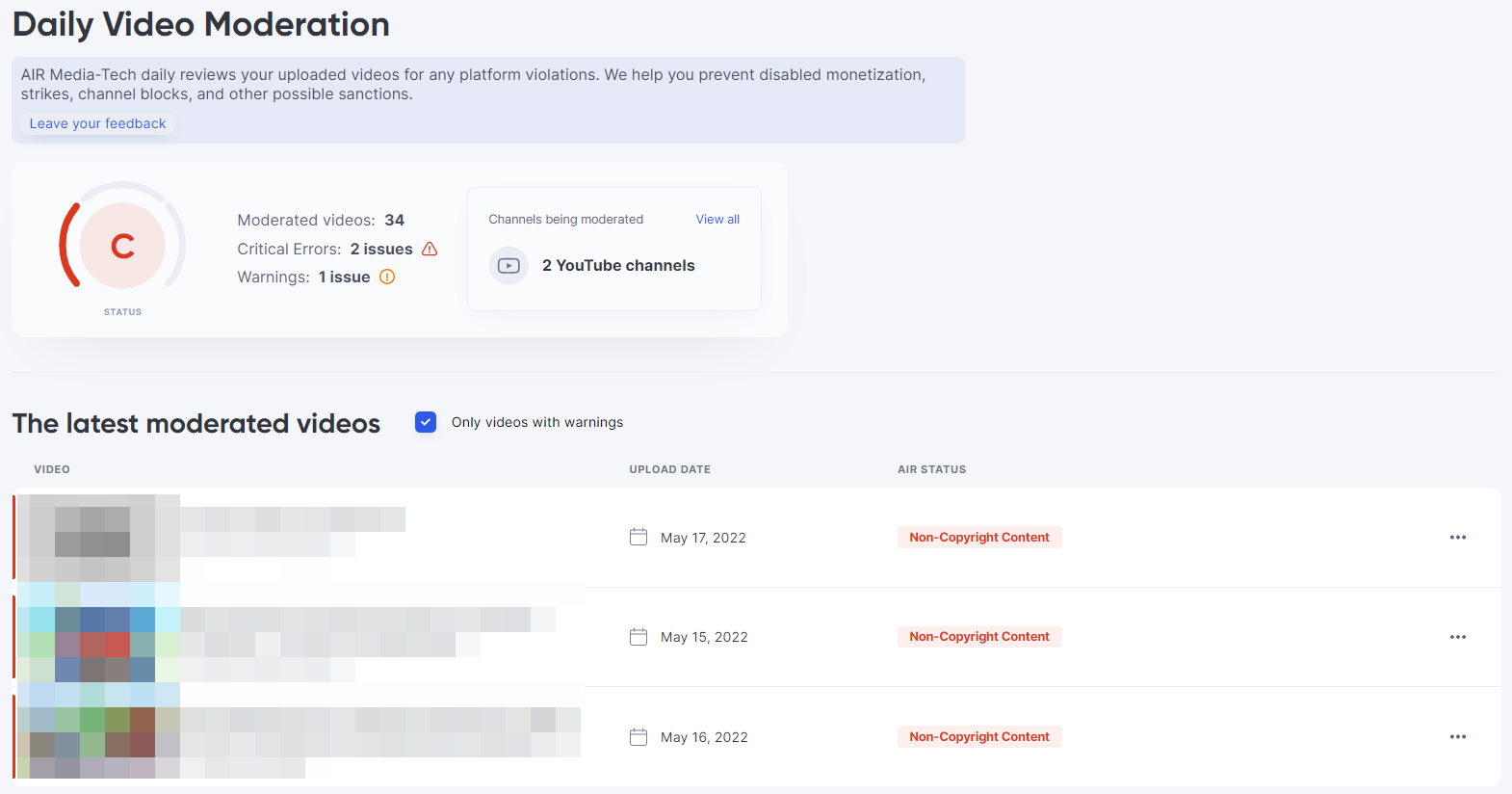 Advantages of Using Video Moderation Tips
Your income is secure. Timely detection of violations in content makes it possible to prevent platform sanctions, which means maintaining monetization on your channel. 
Your channel is protected from hacks. In addition to reviewing your content, Video Moderation also allows us to monitor suspicious activity on your channel, which allows us to notice it on time and prevent it.
You are aware of platform changes and updates. Close communication with the platform team helps us be the first to know about changes in YouTube's algorithms and security system and warn you about them in advance. 
What to Do If You Have Already Received a Warning
If the violation is not critical and does not affect ads, you will receive a warning from YouTube via email. After that, you can decide whether to remove the violation or take a risk. But it's important to remember that if you receive 3 warnings, your channel will be terminated.
If the violation is significant, for example, the video is not copyrighted, which can result in a strike, we will recommend removing such content as this threatens to get the channel terminated.
If you didn't have time to apply the recommendations and still received sanctions from the platform, you can contact us in the personal account messenger, and we will help you solve this problem.
You've probably heard of those lucky creators that manage to avoid the trouble before it appears. Now you know it's not simply luck. AIR Creators Ecosystem provides this Daily Video Moderation service automatically to all partners. With vital moderation tips, you can be confident that you won't get unpleasant surprises on your channel and resolve any doubts you might have concerning your content safety and compliance with the platform guidelines. Join AIR, get access to all security services, and be confident your content is safe!