What is advertising on the platform, how to set it up correctly, and what formats and tools to use to get the best results? Find answers in this article.
Do you create quality content, use licensed music, follow YouTube trends, but your views and subscribers are still not growing? Don't worry; you're not alone. Every creator dreams of organic traffic, getting into recommendations, and constant enthusiastic comments. But unfortunately, it takes years to achieve such a result.
Everything is not so sad: at some point, ad campaigns on YouTube come to mind. They allow creators to quickly gain subscribers, views, increase audience retention, and, as a result, CPM. And if you use ad campaigns wisely, you can even save on your budget.
How does YouTube advertising work

Ad campaigns are a quick solution to increase YouTube channel views and key metrics.
The advantage of launching a promo on YouTube is in flexible mechanics. You can use different formats for each niche with a detailed description of the target audience. You also have the opportunity to choose the most effective advertising format specifically for your goals.
How can I launch an effective ad campaign?
To properly set up an advertising campaign, you must understand who will watch this video and determine the goals: on which platforms do you want to promote your content and what kind of audience you are interested in?
Let's talk about formats. Suppose you want to share your budget correctly. In that case, you should pay attention to the following types of advertising campaigns: TrueView for Reach, TrueView In-stream, TrueView Discovery, TrueView for Action, Bumper Ads, Reservation Ads 15/20s, Outstream Video Ads, Masthead, and Universal App Campaign for Video, Facebook Ads, and TikTok Ads.
Of course, you can learn how to launch advertising campaigns and develop an ideal advertising strategy alone, but remember that this will require a lot of effort and time. But if the results are needed right now, and there is no time to figure it out, you can use the AIR Ads service.
What is AIR Ads

This is the same service that will help you properly set up and launch your channel ads on YouTube, Facebook, Instagram, and TikTok.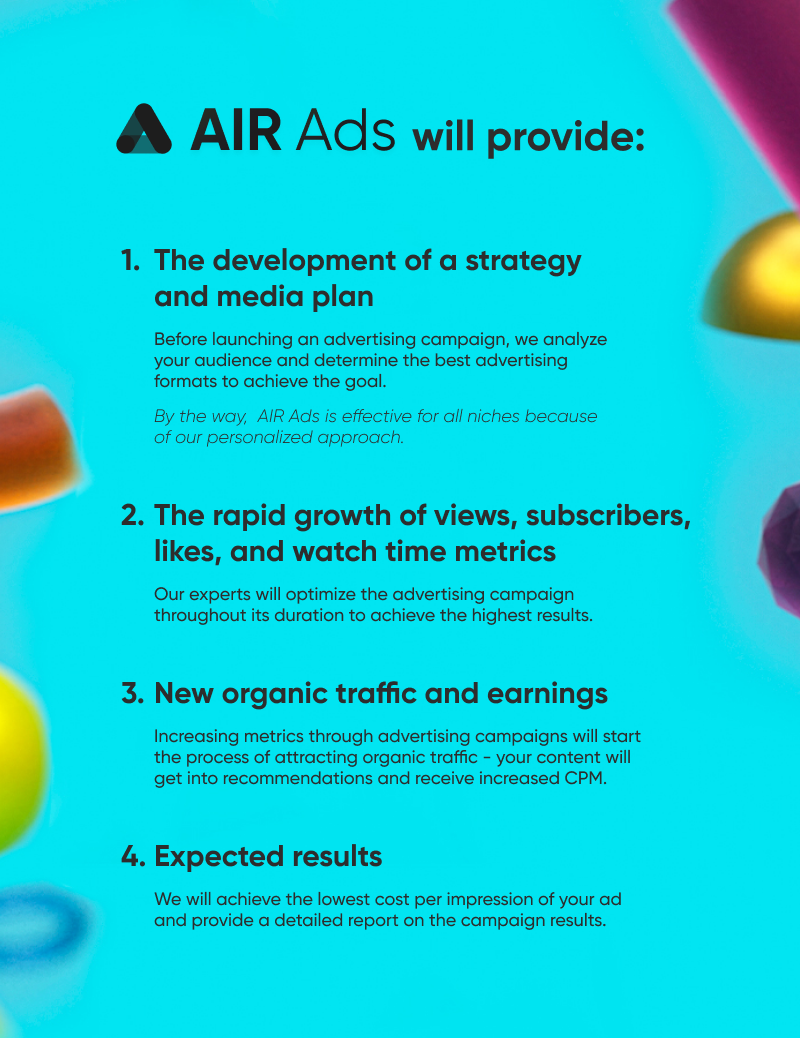 In addition, the Ads tool can be used to enable monetization on your new channels and increase your overall video Watch time.
We've been a certified Google Ads and D&V 360 partner for 11 years. This experience allows us to create the most efficient ad campaigns. With AIR Ads, you have an opportunity to pay per subscriber and view using advanced ad formats. 
The main advantage of the service is the development of an individual advertising strategy for a particular niche and type of content. If you only need to adjust your current strategy, we work together with you to change the advertising materials, or you make changes on your own.
Many ecosystem creators have already built their personal brand awareness with AIR Ads and are now using the tool regularly.

Over 8 months, Watch Me Cerita got 2,668,610 views, 23,527 new subscribers, 954,196 visits to the brand's channel from one advertising video, and an average CPM of $0.0019.

Eмисиjа Сестара, for the same time period, got 1,650,384 views, 18,146 new subscribers, 975,766 visits to the brand's channel from one advertising video, and an average CPM of $0.030.

If we talk about a shorter period for launch, then it's worth considering this case: our team launched 1 video for a music channel with a total budget of $252 for one month. At the same time, specialists used In-Feed and In-Stream formats. As a result, we received over 20,000 new views with a cost per impression of $0.02 for In-Feed and $0.01 for In-Stream.
When using advertising campaigns, it's important to understand that the type of ads you choose and how many will depend a lot on your budget. Opportunities with paid promotions are higher since you can show your content to wider audiences, having paid for every single impression.
But if you are ready to follow the example of the creators from our case studies and increase key channel metrics with advertising campaigns, order the AIR Ads tool in your personal account.
Be sure that the promotion costs will meet your expectations.