Monetize your YouTube channel with memberships ✔️ This comprehensive guide provides step-by-step instructions, best practices, and revenue optimization techniques for YouTube creators
Many creators have already begun to actively connect YouTube Memberships, integrating features such as YouTube member badges. However, many are still missing out on motivating viewers to become a channel member on YouTube.
This, in turn, keeps their membership count from rising. To learn all the details about how to work with Memberships and maximize these features, we advise you to stop everything you're doing and urgently read this article.
Monetizing your YouTube channel with memberships
YouTube Memberships is your personal private club for the most dedicated subscribers. When you join this club (subscribing to Memberships), your fans will donate to you for exclusive bonuses from $0.9 to $499. These can be unique emojis, badges, discounts, access to new videos out of turn or exclusive backstages, discounts, chats, personal communication, and everything "unique" that you can think of for your channel.
Now imagine that your channel audience is 100K subscribers, and at least 1% bought a subscription for $499. Your monthly earnings would be $499K. We hope you have already calculated the approximate income for your audience.
But as practice shows, reaching this 1% is not so easy. If you're a creator looking to show viewers how to join members-only on YouTube and motivate them to do so, let's explore the right strategies and tactics.
Setting membership pricing and benefits for subscribers
Just enabling the feature in Creator Studio is not enough. First, you need to determine the needs of your audience and figure out what would interest them. Next, break down your ideas into levels and bonus composition and determine prices. The bonuses have 6 levels, and each of them has its own value depending on the exclusivity.
Here's what else to look out for:
Start simple: managing 6 different levels could take a lot of effort. The best option is to stop at 3 levels — with low, medium, and high price categories.
Pick your lowest price carefully: would you attract twice as many members at $0.99 as you would at $1.99? If not, choose the second option.
Don't underestimate what your biggest fans might be willing to pay!
Strategies for promoting and marketing YouTube channel memberships
After enabling the Memberships function, a corresponding button appears on your channel, and viewers can click to donate to you. But let's be honest, fans may just forget about it or not even know about this possibility on YouTube. Therefore, you need to constantly make calls to action in communication.
Announce the launch of Memberships in your next videos and add a link to the feature page in the description of your videos. To reach even more viewers, you can take the following steps:
Publish a 1-2 minute Intro about Memberships that your viewers will see after clicking 'join'. The intro more than doubles the % of new members signing up!
Publish a post series in the Community section with short news about the Memberships.
Launch a stream in which you answer the questions of the audience and dispel the doubts of those who have not yet decided to become a member.
Cross-Promotion: Utilize other platforms like Twitter, Instagram, or even a personal blog to drive awareness about YouTube Memberships.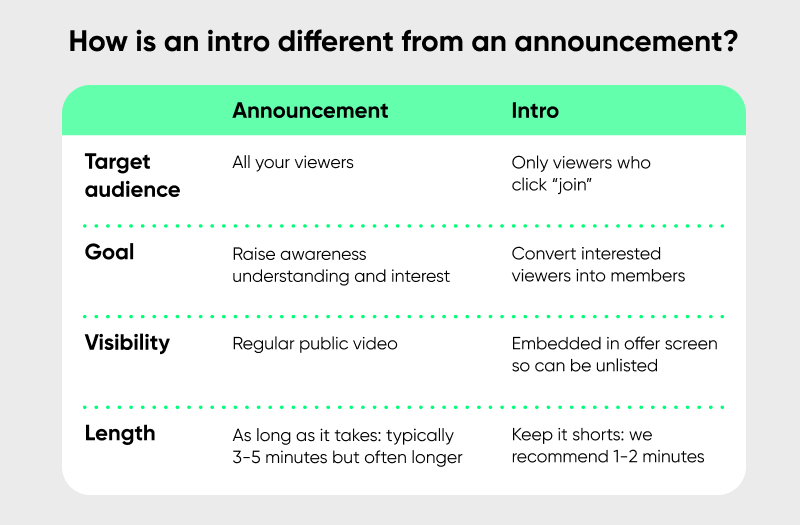 Creating exclusive content and perks for YouTube members
The allure of Memberships lies in the exclusivity of the content and perks on offer. The value of bonuses isn't always determined by their difficulty of creation. It's more about what resonates with your audience. It's important to ensure your bonuses are not repulsive to ordinary viewers.
To help you in curating the right offerings, we've compiled a list of 8 ideas for your YouTube Membership bonuses:
Behind-the-Scenes Content: Offer a glimpse into your creative process, setup, or day-to-day life which regular subscribers don't see.
Custom Emojis and Badges: Design unique emojis and badges specifically for your membership tiers.
Early Access: Provide members with early access to your videos before the general public.
Virtual Meet & Greets: Schedule virtual sessions where you interact with your members one-on-one or in small groups.
Exclusive Live Streams: Host live streams dedicated to members, discussing niche topics or hosting Q&A sessions.
Interactive Content: Engage members with interactive content like quizzes, challenges, or contests only for them.
Members-Only Community Posts: Utilize YouTube's Community Tab to share exclusive posts, pictures, or polls with members.
Advanced Training/Webinars/Tutorials: If you're knowledgeable in a specific area, host advanced training sessions or webinars covering deeper topics.
Though the YouTube Memberships journey might seem intricate, this puzzle can be bypassed — just reach out to AIR Media Tech! We'll guide you every step of the way, from assisting you in creating YouTube member badges and emojis to boosting your Memberships revenue and engagement through our specialized service Altmon.
Best practices for engaging, retaining, and growing the YouTube membership base
Developing YouTube Memberships is all about building a trusted community. Here are some practices that can help you cultivate a thriving, engaged membership base:
Consistent Communication: Regularly update members with channel news, upcoming content, and changes in membership perks through the Community Tab or exclusive live streams.
Exclusive Q&A Sessions: Dedicate time to host Q&A sessions that delve into members' specific concerns, interests, and curiosities.
Loyalty Rewards: Offer special rewards or badges for long-standing members, reinforcing their value to your community.
Member Spotlights: Dedicate segments or videos to appreciate a member's noteworthy contribution or story, making them feel seen and valued.
Feedback Channels: Establish clear channels where members can suggest new content ideas, perks, or improvements, emphasizing a collaborative community spirit.
Analyzing YouTube membership metrics and performance.
Even as you build a warm, trustful connection with your audience, don't overlook the importance of numbers in YouTube membership analytics. Keep an eye on these main metrics:
Conversion Analysis: Examine how many of your regular subscribers transition to paid members. This can give insights into the attractiveness of your membership perks.
Retention Analysis: Closely monitor your membership drop-off rates. If you see a spike in exits, delve deep to uncover the potential causes and rectify them.
Member Surveys: Periodically release surveys for members to capture direct feedback on content, perks, and overall satisfaction levels.
Content Performance: Review which member-exclusive videos or posts get the most views, comments, or shares, and consider producing more of that type.
Revenue Analysis: Break down your membership revenue to understand which tiers or perks are the most lucrative.
Case studies of successful YouTube channels with thriving membership programs
How about some real-world examples of utilizing YouTube Memberships? Let's delve into the journeys of three creators who maximized the potential of YouTube Memberships with AIR Media Tech:
Case Study 1: Our partner Volodymir Zolkin set up Memberships on his channel and has grown his revenue by 130% in just 3 months — with the feature bringing him almost $5,000.
Case Study 2: SAMVYDAV's decision to synchronize Patreon strategies with YouTube Memberships led to an impressive 24% revenue growth in just two months, showcasing the compounding power of multiple monetization channels.
Case Study 3: Meanwhile, another partner of ours was able to earn over $217,000 this year from the Memberships alone. Their monthly income exceeds $20,000!
Ready to create your own YouTube private club? Reach out to AIR Media Tech and get ready to increase your earnings and channel engagement with YouTube Memberships.