Why is this platform tool becoming more popular and how to use it correctly? Find answers in this article!
YouTube recently updated Membership. Now the maximum price per subscription will increase from $99 to $499, with one more level added to its already 5 existing levels — so you can use the opportunities for additional income to the maximum.

Many creators have already begun to actively connect YouTube Membership, but unfortunately, they have not set up and use the function inefficiently, so they cannot increase the number of members. To learn all the details about how to correctly work with Membership, we advise you to stop everything you're doing and urgently read this article.


YouTube Membership opportunities on your channel

YouTube Membership is your personal private club for the most dedicated subscribers. As we already mentioned, now when you join this club (subscribing to Membership), your fans will donate to you for exclusive bonuses from $0.9 to $499. These can be unique emojis, badges, discounts, access to new videos out of turn or exclusive backstages, discounts, chats, personal communication, and everything "unique" that you can think of for your channel.
Now imagine that your channel audience is 100K subscribers, and at least 1% bought a subscription for $499. Your monthly earnings would be $499K. We hope you have already calculated the approximate income for your audience.
But as practice shows, reaching this 1% is not so easy. Let's take the main mistakes:


#1. You don't have a bonus strategy or they're not interesting for your fans.

Just enabling the feature in Creator Studio is not enough. First, you need to determine the needs of your audience and figure out what would interest them. Next, break down your ideas into levels and bonus composition and determine prices.
The bonuses have 6 levels, and each of them has its own value depending on the exclusivity. For example, at the first level, you can offer an exclusive emoji that will be available only to members, and at the fourth level, you can access a unique training program if you have a sports channel.
Important: if you cannot decide on the number of bonuses, then the best option is to stop at 3 levels — with low, medium, and high price categories. It is also easier to manage a small number of bonuses at the start and add other levels as Membership develops on your channel.
Here's what else to look out for:
Offer higher value perks at the higher levels: give your members a reason to want the next level up.

Pick your lowest price carefully: would you attract twice as many members at $0.99 as you would at $1.99? If not, you may earn more revenue by setting the price at $1.99.

Don't underestimate what your biggest fans might be willing to pay!

Start simple: managing 6 different levels could take a lot of effort!
And most importantly — what should the bonuses be:
Valuable.

The value of bonuses is not always determined by their difficulty. Think about what your audience is interested in. What bonuses will be valuable to them?

Universal.

It should not take long to create bonuses, even if the number of members increases over time.

Actual.

Don't disappoint members. Provide bonuses on time every month to keep fans interested.



Not repulsive to ordinary viewers. Offer benefits for members, but at the same time, do not deprive simple channel viewers of your attention.


#2. You don't announce the Membership launch on the channel 
Of course, after enabling the function, a corresponding button appears on your channel, and viewers can click to donate to you. But let's be honest, your fans may just forget about it or not even know about this possibility on YouTube. Therefore, you need to constantly make calls to action in communication. Immediately after enabling the feature, announce its launch in a new video and on social networks, post in the Community section. Tell more details about the uniqueness of your bonuses.
How to properly announce a feature to viewers?
Explain what Membership is, what you're offering, and what (if anything) you're changing.

Talk about why you're doing this: what's motivating you, and how will you use the money?

Reassure viewers who choose not to participate that nothing will change for them.

Consider the format: You can create a standalone video or fit the announcement into a regular upload — but keep in mind that if you put it right at the end, a lot of your audience may have dropped off and won't see it!

Talk directly to the camera: this is a great way to show your sincerity and connect with your audience.
What's next? Try to mention Membership in your next videos and add a link to the feature page in the description of your videos. For example, talk about what your members are already getting and encourage viewers to join this company and get the same thing for only a nominal fee.
To reach even more viewers and encourage them to subscribe to your channel sometime after the launch of the function, you can take the following steps:
Create a new video in which you thank existing members and talk about how this feature has affected the channel's growth since its launch.

Publish a post series in the Community section with short news about the Membership.

Launch a stream in which you answer the questions of the audience and dispel the doubts of those who have not yet decided to become a member.


#3. You don't have an intro or it's a poor quality.
Intro is a short video in which you encourage viewers to become members and describe the main advantages of your bonuses. Viewers see your intro videos after clicking "join" – it's a great chance to convert them into members!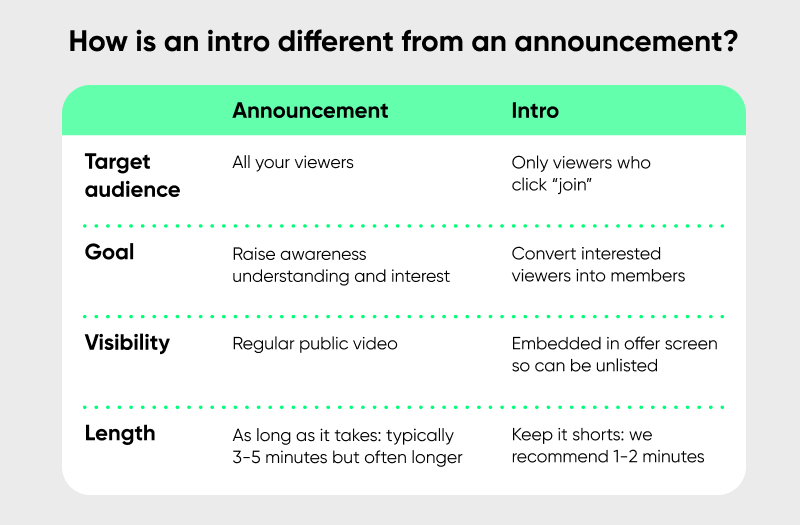 What should be the Intro?
Informative. Briefly explain what "Membership" is and what the benefits are.
Motivational. Tell us why you decided to launch "Membership" and what your goal is. The audience will gladly support you if they see that it's really important.
Give confidence. Reach out to those who do not plan to become a member. Explain that their opportunities will not decrease. Give bonuses as additional benefits for the most dedicated fans, so that ordinary viewers do not get the impression that they will be deprived of something important.
Honest. Be open about where the money will go. This will build viewers' trust and encourage them to keep supporting the channel.
Often creators don't create an intro and leave it for later. This is a huge mistake because it more than doubles the % of new members signing up.


How to set up YouTube Membership quickly and efficiently
Membershiping takes time, but in return, you can get a tangible income in addition to the standard monetization. But this whole puzzle can be bypassed — just write to us in the messenger in your AIR personal account.
To effectively promote YouTube Membership and Super Features on AIR Creators Ecosystem partner channels, our team has developed a comprehensive AIR Altmon Dev service. We'll help you create a feature strategy for your channel and turn on the Membership, brainstorm bonus levels, design stickers and emojis, and help you launch Super Chat with Gyre on your existing videos.
What you get with Altmon:
A new source of income.

Go beyond ordinary monetization and get additional ways to earn more with YouTube Super Features and Membership.
Increased channel Interest.

Create exclusive bonus levels for your members and increase the number of new fans.
Close contact with your audience.

Add interactive communication with your viewers and collect feedback on the content. This will help you learn about your audience better and experiment with trends.
Ready to create your own YouTube private club? Follow this link to send us an inquiry and find out more details!
Stay on-trend and increase your earnings with YouTube Super Features.