YouTube monetization is the process of generating income from videos that you post to the platform. It is achieved through advertisements, subscriptions, or direct donations. When people watch the video, like, or subscribe to your channel you get paid a certain amount for it. The more people watch (or, the more subscribers you have), the more you earn. The number of YouTube users is only increasing, which means that every beginner YouTuber can find the target audience.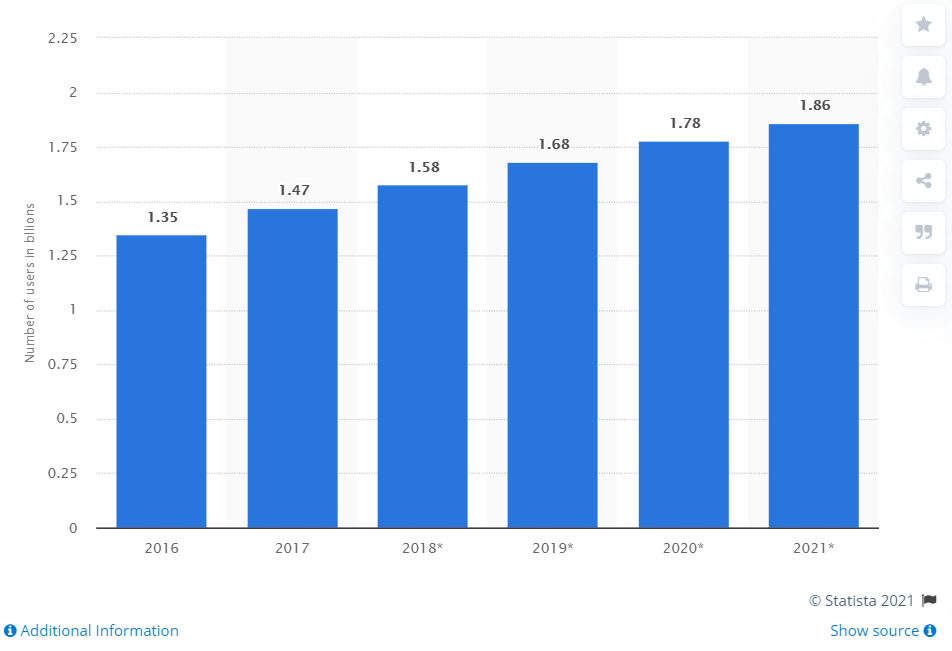 The number of active YouTube users for the period of 2016-2021 is in the billions. Source: Statista.
It's no secret to anyone that making money on YouTube is a very real opportunity. Correct presentation and quality content are the keys to success on the platform. The main question is: how much do creators make on YouTube? And is the considerable effort to create and promote video content worth it?
According to Forbes, the list of the highest-paid bloggers is as follows:
Ryan Kaji - $ 29.5 million
Mr. Beast (Jimmy Donaldson) - $ 24 million
Dude Perfect - $ 23 million
Rhett and Link - $ 20 million
Markiplier (Mark Fischbach) - $ 19.5 million
Preston Arsement - $ 19 million
Nastya (Anastasia Radzinskaya) - $ 18.5 million
Blippi (Stevin John) - $ 17 million
David Dobrik - $ 15.5 million
Jeffree Star - $ 15 million
If they can do it, so can you!
How to Get Monetized on YouTube?
Every person who has shot a video for YouTube has at least once wondered: how can I monetize youtube videos and start making money?
However, even unique and high-quality YouTube content can result in little to no income if you do not understand the terms of monetization.
Enable Monetization
To connect YouTube channel monetization, you need to do the following:
Go to your channel's Creative Studio and click on the Monetization tab. It is also necessary to be connected to Google Adsense.
Next, you will be offered various ad formats: media, overlays, promotional tips, skippable ads, and more. You need to choose the most suitable format.
Wait for the channel to be checked for eligibility. After successfully passing this stage, Youtube monetization will start on your videos.
YouTube Monetization Requirements
Unfortunately, it will not be possible to enable monetization on YouTube for new channels immediately. To begin with, you will need to regularly upload and promote your videos on YouTube and fulfill certain conditions:
Over the past year, your videos should have received 4000 hours of views.
Your channel must have at least 1000 subscribers.
This is required so that YouTube specialists can analyze your videos on the channel and determine whether they comply with the video hosting rules and whether you have any violation strikes. Therefore, even if you have reached the requirements, you may be refused to connect to monetization if any misconduct has been noticed on your account.
How to enter the YouTube Partner Program?
The YouTube Partner Program (YPP) is a service that allows you to monetize your content.
YouTube partnership terms:
You must have an account that is approved for monetization and has a good reputation;
Publish only content that will not cause objection from advertisers, and will not violate copyright;
Members of multichannel networks must have an agreement with the network that will not prohibit them from participating in the YouTube affiliate program.
You can also earn income from videos uploaded earlier. Steps required:
Follow the video manager
Select the video to which you want to add ads
Next to the video, click on the "$" icon. The monetization panel will appear. Install "Monetize My Video".
Decide on the ad format.
Save your changes. For some time, the video will be checked for compliance with the terms of service.
You can start YouTube earnings even after connecting to Adsense, but if you are the owner of a young channel, it is better to connect to an affiliate program, since at the initial stage of development you will need help.
Many affiliate programs not only provide manager's advice but also help in development by advising how to increase the number of views and subscribers.
For example, AIR is one of the largest affiliate networks. It helps in the development of the channel and collaborates with many millionaire creators.
Link Account with Adsense
Make sure to link the channel to the Adsense service through your Creative Studio. Steps required:
Follow the "Monetization" tab and if you have already enabled it, click "Connect with your Adsense account":
Re-authenticate your Google account.
Read and follow the instructions on the screen carefully. You will need to enter your contact information and send an application to connect to Adsense.
You will be redirected back to your Creative Studio where you should see a message that the application has been received.
It can take several days for the application to be considered. When it is approved, a letter will be sent to your email and you will see the word, "Done", lit up next to the "Link your Adsense account" button.
Hooray, the first stage is over! Now you have a working Adsense which means your monetization will be safe.
YouTube Premium
YouTube allows channel owners to receive funds from user views with active premium subscriptions.
Do Not Forget About YouTube Copyrights
All existing and prospective YouTube partners must comply with the content monetization policy, including community guidelines, terms of use, copyright requirements, and the Adsense program rules.
Requirements for connecting YouTube monetization include:
1000 or more subscribers;
At least 4000 hours of views in the last 12 months;
No violation of YouTube rules.
What can I do if I am not approved?
With the help of ever-changing rules, YouTube is fighting offenders - those who buy cheats, likes, and comments.
If you don't have 1000 subscribers and 4000 hours of views, YouTube will offer to send you a notification when all the criteria are met.
How Much Money Can You Make on YouTube?
Let's see how much an ordinary YouTuber can earn for each view.
Based on various sources, YouTubers' revenue with the Adsense affiliate is $ 0.01 - $ 0.03 per view.
The following factors influence the final amount:
The total number of video views;
Number of ad clicks;
The presence of users who have Adblock installed;
Length of the video.
According to Forbes, YouTube pays its top bloggers up to $5 per 1,000 views.
Additional Ways to Make Money on Youtube
There are many ways to monetize your YouTube channel. Let's take a look at some ways that are not so obvious.
Connect Channel Membership
A YouTube membership is an opportunity for fans to support their favorite YouTube channels by making automatic monthly donations. The primary purpose of YouTube membership is to provide financial assistance to YouTubers by helping them make full-time videos. In addition, members are provided with benefits such as member-only access to blog posts and exclusive emoticons for use in YouTube live chats. The YouTube membership feature is not available for all channels. To access YouTube membership, the channel must already be in the YouTube Partner Program, have over 30,000 subscribers, and have no active strikes.
Sell goods
Turning a YouTube channel into an online store is, of course, impossible.
But it can and should be used as a sales tool. The most popular and effective sales strategy is creating video reviews - they allow users to learn as much as possible about products and help them make the right choice without the risk of wasting money. When creating an overview video, start the story with how this product or service may interest the user and what benefits they will bring.
Then you can proceed to the description of the product features and answer the question, "How does it work?" This allows you to talk about the object and draw the viewer's attention to the video itself within the first few seconds. Shoot anything that might be of interest to your target audience. Suppose you are a professional in your field, in that case, you already have a lot of necessary and valuable information to create a story that will attract users' attention and motivate them to buy.
Multichannel Network
In addition to the direct YouTube affiliate program, there are also multichannel affiliate programs (MCN). The multichannel network unites several YouTube channels. Network representatives help bloggers earn money from youtube views and do business with partners. Multichannel affiliate networks offer:
Additional promotion tools
Technical support
Simplified withdrawal of funds
How much can you earn on direct and multichannel YouTube affiliate programs? The possible amount of your income depends on:
The number of ad impressions - an impression is counted if the subscriber has watched the ad to the end or at least the first 30 seconds;
The format and cost of the advertisement;
The geolocation of your viewers - that's why many bloggers target a foreign audience (from the USA, Europe);
Hours of viewing,
Users involved;
The subject of the video and its quality.
Crowdfunding
Crowdfunding on YouTube is a way to raise funds for the development of your channel. If you regularly post quality content, you can ask users for financial support. A great example of this kind of platform is Patreon.
Merch
Official merchandise is an integral part of promoting your brand online. Collaborating with YouTube gives fans direct access to merchandise featuring their favorite creator. Creating a line of products under your brand is an excellent opportunity for YouTube bloggers to attract additional attention to themselves and their creativity and give fans quick access to new products.
Referral programs
You've probably seen videos where the blogger first advertises and then asks viewers to place an order at the link provided in the video's description. This kind of monetization is called affiliate(or referral) marketing - the blogger earns a commission on every order made and paid for by his referral link. In this case, you are getting paid for results on the number of orders and their average bill. The blogger's commission depends on the affiliate program's terms and can reach 20-70% of each order.
If you choose to partner with an affiliate program instead of monetizing your videos directly through Adsense, consider these steps:
Choose the right media network for you. Read reviews from former and current partners, learn the rules about payments, consider the partner network requirements, and assess all of the pros and cons..
Check if your channel is eligible for collaboration. Partners usually list all of the requirements on their official website.
Apply for a connection. You can do this on the official website of the selected media network.
Collaboration with brands
Working with brands and direct advertisers produces a much more impressive income than the YouTube affiliate program. Moreover, both methods can be combined, increasing profits. If you have a channel with many subscribers, good display statistics, and impressive reach, then advertisers and brand representatives will contact you on their own. Cooperation takes place under a formal agreement: for six months, a year, or more.
Possible formats:
Demonstration of an advertising product in their videos (direct advertising);
Placement of referral links on the channel;
Reviews and PR mailings.
You may be interested in brands that match the subject of your videos. 
Find out what other sources of additional income exist in our video guide.
Wrapping up
A blog on YouTube is the game of the future. You won't be able to earn much all at once. And you will not have advertisers knocking on your door until you have an audience in the thousands or millions, and most importantly - a loyal audience. Keep in mind, in the beginning, you can expect only a tiny income from AdSense advertising. Consider it a bonus for your efforts, rather than decent pay for your work. But, if you are ready to play the long game and see the appearance on YouTube as an important and necessary stage of your development - then you've got to try and see how everything works out for you!
For our part, we at AIR will make every effort to ensure that you reach your goal as soon as possible.