Want to earn more with your channel? It's possible with YouTube affiliate marketing! Here are several numbers that show your chances for success:
2.3+ billion users visit YouTube monthly.
30 million people watch at least one video every day.
1 billion videos are watched daily.
In 2020, the platform generated $19.7 billion in revenue.
YouTube revenue increases by 30% annually.
As you can see, YouTube is only becoming more popular, users trust this platform, and they are ready to spend more money on it!
What Is YouTube Affiliate Marketing?
In general, affiliate marketing is when a person promotes a product/service and gains a commission for each sale they make!
YouTube Affiliate Marketing works the same way:
You create fascinating videos that watchers adore and are ready to share with friends.
The content encourages people to buy something from a third-party website.
They find your affiliate link in the YouTube video description and make a purchase.
Voila! You get money for every completed deal!
One great advantage is that you don't need to manufacture and deliver products or provide services yourself. You only get money for promoting what others do. That's why YouTube affiliate marketing doesn't require serious funding to get started.
How Can I Get Started with It?
Before you start your YouTube affiliate marketing endeavors, keep in mind that success may not come to you overnight. The speed of getting those first dollars depends on the following:
The number of subscribers you have and the speed of your channel's growth
The popularity of products and services you're going to promote
The frequency of video uploads
Additional channels for affiliate activities (website, blog, socials)
Overall audience engagement and willingness to share videos
Depending on these factors, you can get the first profit either in the first week or in a year!
What Do Affiliate Links on YouTube Look Like?
Usually, this is a link with a tracking code. It allows your partners to know how many sales you have generated. You can add affiliate links to a Youtube Description in two ways:
These links are usually long and unappealing, so it's better to use cloaking. You may shorten them with Bitly or TinyURL, which also hides your affiliate ID: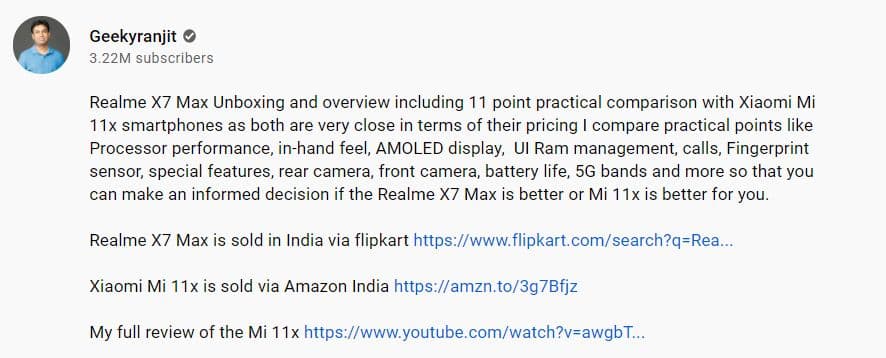 You may post 'naked' affiliate links and YouTube will put an ellipsis to make them look better: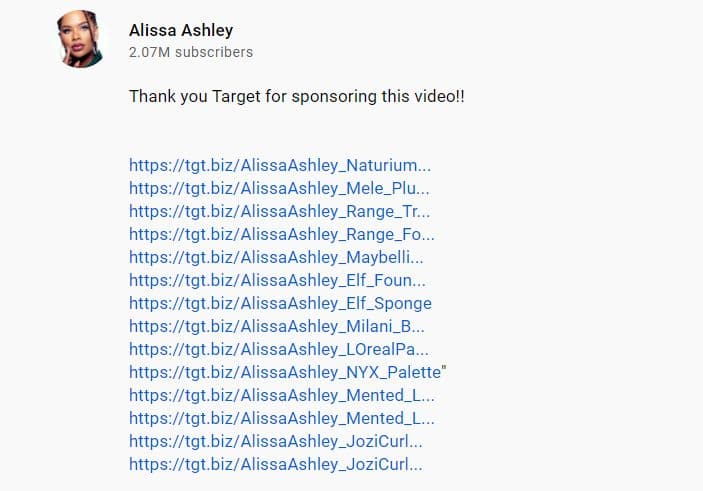 Some bloggers even write a note that they are using affiliate links to earn money. YouTube allows these links without any limits. You can make them cloaked or paste 'naked' links.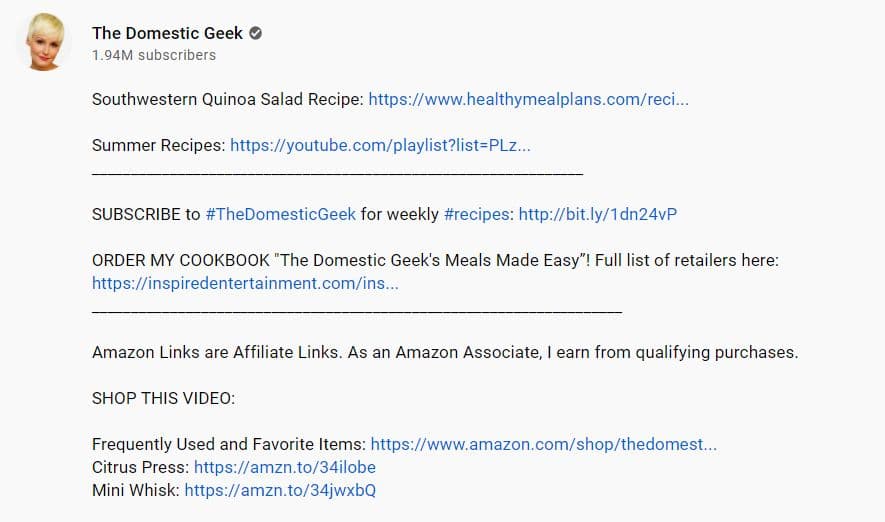 Where to Add Affiliate Links on YouTube?
YouTube has no restrictions on how to add affiliate links to YouTube videos. You can insert them to:
Video descriptions
End of the video (up to 5 cards)
Posts in the Community tab
Comments, if the topic is relevant
Just don't overdo it, as too much affiliate marketing on YouTube exhausts users and they stop even noticing all these promotional links! Also, too many links in a row will look awkward and overwhelm the audience, causing them to not even click on at least one! Moreover, YouTube might consider them spam!
How to Make Money with Affiliate Marketing on YouTube?
The most popular content types among those who do YouTube affiliate marketing are:
How-To Manuals
Earn by teaching your audience. People love how-to's because they are valuable and fascinating. This content both educates and entertains.
Everything depends on the topic. Nevertheless, here are some common examples:
A blogger shows how to free some disk space on a Mac, and then recommends a piece of software that does the same in three clicks.
A beauty blogger tells watchers how to create another make-up look, and advises on what cosmetics she used.
'Best of' Videos
We are sure you've seen something like this:
Best Productivity Software
Top 10 Sneakers in 2021
Best Android Phones
Top 5 YouTube Affiliate Marketing Programs :)
The list is endless. Just decide on a topic and discuss your rating of that product/service. Add your affiliate links to it and get a commission for every purchase!
Unboxing Videos
This type of content doesn't require much experience. All you need to do is:
Open the package.
Remove the product out of the box.
Turn it on (if it's a gadget) or show how it looks.
Tell the audience how you'll use it.
Such type of content works great for:
Gadgets (phones, watches, drones, and other electronic devices)
Household products
Beauty and healthcare goods
Products for sports and traveling
However, you can shoot an unboxing of just anything that you buy!
Product Reviews
This type of marketing is a combination of the above points. Product reviews are for demonstrating to users how something works and also assessing its value for the audience. Commonly, a review includes:
A story about the product and its description.
Real-life use cases.
Pros and cons.
Your honest impressions.
Comparisons with similar products.
Final rating (10 out of 10, 5 stars, Yes or No).
Recommendations and life hacks.
Several Tips for Creating Engaging Videos
The secret to success when using YouTube affiliate marketing is audience engagement. If you collect millions of views and thousands of likes and comments, it's likely that at least ~10% of users will click on the affiliate link, and about ~10% of those users will make a purchase.
Here's how to make your content more attractive:
Organize a studio. Dedicate a space for shooting video content and clean it from clutter. Use cute decor.
Use enough light. Get an additional lamp or a ring-light. Otherwise, the quality of the video will suffer, as well as the eyes of your watchers!
Create high quality videos. Ideally, use a DSLR (Digital single-lens reflex) camera. If you don't have one and are not going to buy one, shoot videos with at least an iPhone 11 Pro. ;) 720HD resolution is a minimum nowadays!
Use a tripod to not make your watchers shake along with your video. :)
Get a high-quality microphone to eliminate background noises. Some bloggers use body mics (lavaliers) to improve the quality of the sound recording.
Follow the script. Even experienced bloggers write scripts and rehearse them before shooting! This will make it easier to edit the video and cut out all scenes with awkward pauses or mistakes.
Edit videos! It's unrealistic to record an ideal video in one shot. Superfluous words, long pauses, mistakes, noise — all this distracts attention from the topic and infuriates the audience. Cut it out!
Create detailed descriptions with links to the products in the first couple of sentences.
The story doesn't end after releasing your video content! Here's what to do to build trustworthy relationships with viewers and discover new audiences:
Politely respond to comments, even to negative ones. This will show your positive attitude to visitors and help turn strangers into loyal followers.
Start collaborations with other YouTubers. Each partner will have a chance to add subscribers from the other party's audience.
Create videos based on the topics offered by viewers. Interact with people. Don't let them think that you don't care what they want. On the contrary, let them know that you value their thoughts.
Add CTAs (calls to action) in your videos, write brief descriptions, ask them to subscribe to your community, share and follow affiliate links. Users should know what you want from them, and you are free to remind them about the opportunity to get a top-notch product.
Conduct giveaways and promos for your channel to attract more audiences. Even those who are new to your channel can become subscribers and get something via your affiliate links.
The key point is that the more people see your videos, the more conversions from your YouTube affiliate marketing activities you'll get!
How the AIR Media Referral Program Works
A referral is when your own affiliate network of channels connect to AIR on your recommendation. It works like this:
You become our affiliate and get a personal link.
You share this link anywhere on YouTube or other socials.
You get commissions for each successful connection to AIR.
Our active partners earn on average $1500-2000 each month only by using this program. Not bad additional income, agreed? ;)
What Makes This Program Unique?
AIR's affiliate marketing program for YouTube is the only one with three levels. This means that you get income not only from your direct recommendations but for purchases of 2-level or 3-level referrals.
Here's an example of how it works:
You recommend AIR to Jane Doe. She starts working with AIR, and you receive a 10% commission.
Jane is your second-level referral. She recommends AIR to her fellow blogger John, and you get a 4% commission, while Jane receives 10%.
When John, who is now your third-level referral, finds a new subscriber to AIR's services, you receive a 1% commission for this purchase. Jane gets 4% for this transaction and John receives 10%.
How Much Money Can You Earn with This Program?
Let's imagine that you've attracted three first-level referrals, and each of them invites the same number of people.
If each of them generates 50 thousand commercial views per month, then with an average CPM of our network ($5 per 1,000 commercial views), you will earn approximately $840 per year.
You'll earn almost one thousand dollars just by recommending AIR to three people you know! ;)
If you recommend AIR to more people, let's say five of your acquaintances, your income could be $2475 per year.
Our experience shows that most active bloggers have from 500 to 700 first-level referrals.
How to Join?
Sign in to your AIR account.
Go to 'Income', then to 'Referral program.'
Click on 'Create new referral link', which you can find under the main information.
In the new window, specify your custom ending for the link in the field 'Enter your URL.' This will be your affiliate link.
In the field 'Specify the link for redirection' write 'join.air.io'.
Click 'Create Link' and it will appear on the list:

Pros and Cons of YouTube Affiliate Marketing
Finally, let's discuss why it's worth posting affiliate links, and what issues can arise.
Advantages:
You control everything with affiliate marketing on YouTube. You choose what products/services to promote (gambling and adult offers excluded)). You decide where to include your links and how often to post updates.
YouTube has a massive audience, and the traffic is growing every year! People now spend more time watching YouTube videos than regular TV.
Huge organic traffic. Videos from YouTube appear in 55% of searches on Google. Also, creating an optimized description is already enough to collect organic views and subscriptions.
Comparatively low competition. Though there are millions of vlogs on YouTube, the competition is not as tough as on Instagram or Twitter.
Guaranteed stability. While Facebook changes algorithms every month and people have no time to get used to them, YouTube uses an old scheme for all cases.
Minimal investment at the start. You don't need a fortune to start a vlog and join the YouTube affiliate marketing business. Spend some time learning the basics, upload videos with affiliate links, and get a commission for every purchase! It's simple!
Disadvantages
Creating high-quality content is time-consuming. Researching information, writing scripts, setting up a studio, and other details take a handful of time. However, this is not an issue if you're good at time management.
Planning a strategy requires expertise and dedication. Crafting user personas, determining the frequency of posts, following community rules, possible deviations from topics, as well as setting up a brand style are impossible without relevant knowledge and skills. It's awesome that now there are tons of courses and blogs where you can learn and hone these skills!
You don't actually own the platform. As long as YouTube is the owner, they have the right to delete any content they find inappropriate. They can delete videos and channels permanently, without any chance of recovery. So, follow the rules carefully!
If you overdo posting affiliate links on YouTube the system may consider it spam. That's why we don't recommend posting 20 links in a row.
Some niches are overcrowded. There are thousands of bloggers who review technology and gadgets. YouTube is also full of bloggers in the beauty and sports fields. Before you start, you should realize the competition. If it's too high, your channel might be lost in a highly competitive niche.
Limits on commissions. Some YouTube affiliate marketing programs place time limits for making purchases. If a user doesn't decide on a promoted product immediately, you might not receive a commission for their purchase made a month or more later.
Conclusion
To sum it up, we shared some valuable life hacks on developing your affiliate marketing network on YouTube:
Grow the number of affiliates to increase your monthly income.
Regularly search for channels that are not connected to affiliate programs and recommend AIR to them as a way to monetize content.
Encourage your first-level partners to create their own affiliate links. This will increase the number of referrals at the 2nd and 3rd levels for you.
Help your referrals develop. Point out errors in channel management, advise your viewers to subscribe to them, help YouTubers with collaborations, and recommend them to visit AIR MeetUps.
Last but not least — subscribe to our blog to discover tons of useful recommendations for FREE! ;)