Empower your content creation with 18 best AI tools! ✔️From idea generation to AI-generated video, AI translation, dubbing, YouTube SEO and more
Luckily, there are lots of tasks creators can delegate to AI today. But what AI tools are truly efficient? To find an answer, we've explored countless tools, put them to the test, assessed their features, and put together a comprehensive list of 12 AI tools  for creators – complete with their strengths and weaknesses. This collection includes technologies to help you with:
Idea Generation and Script Writing

AI-Generated Video and AI Video Editing

AI Translation, Dubbing, and Voice-Over Software

YouTube SEO
Treat AI like a young mind: educate, validate, fine-tune
We get it – you might be a bit skeptical about omnipresent AI. Sometimes, it falls short on creativity, glitches out, and gives you stale ideas. Still, it holds the potential to amplify your productivity and growth by leaps and bounds. There are a few habits that are well worth cultivating to harness the full power of AI for creators:
Give it a double-check: With all the scandals and lawsuits stemming from AI, it's crucial for creators to verify the information it provides and be mindful of the fact that it draws on ideas and materials already created by others.
Fine-tune it

: While AI boasts endless potential, it's more about laying a solid foundation for your creation rather than delivering the final product. Be sure to infuse your personal touch into whatever AI supplies.

Educate it

: Chances are, you've already had a few run-ins with ChatGPT or similar tools. The bottom line is this – Artificial Intelligence has "Intelligence" in its name for a reason. It needs to grasp your tone of voice, your style, and your unique way of presenting information.
Now that we've got all that in our heads, let's jump into exploring some tools.
AI Tools for Idea Generation and Script Writing
As every creation begins with an idea and script, here's a lineup of AI tools to assist you in conquering writer's block and infusing inspiration.
WriteSonic
WriteSonic is a content generation tool with over 100 features, including a chat feature called ChatSonic for brainstorming ideas.
Pros: There are 6 special features specialized for YouTube creators. They help with ideas, scripts, titles, descriptions, and more.

Cons: If you're on the free plan, you won't get all the fancy features.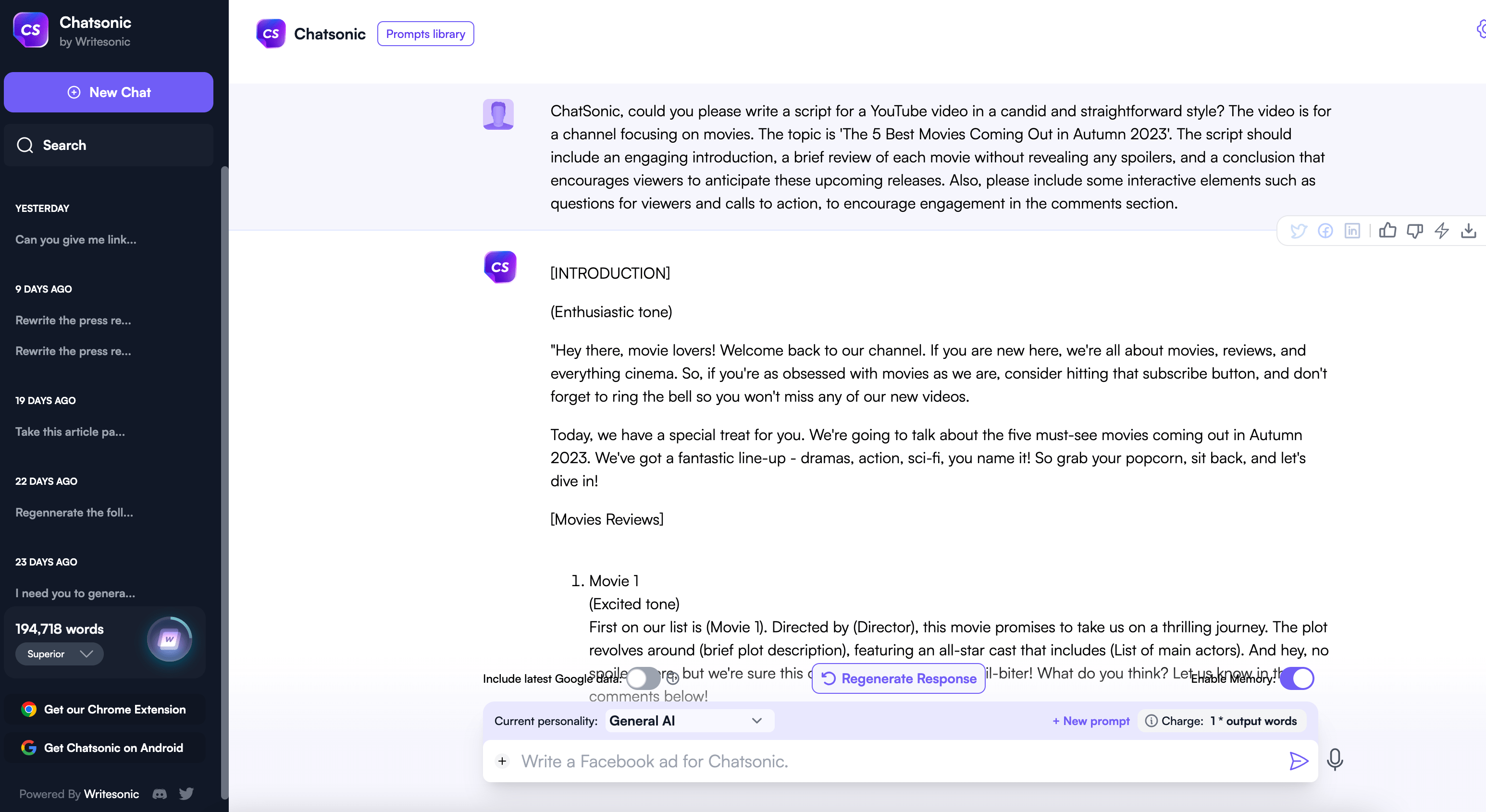 Narrato
Narrato handles everything from generating various content types to SEO assistance and AI image creation.
Pros: Has a specialized "Video" section for creators that provides a good base for video scripts and descriptions.

Cons: Social media content support may need improvement; pricing plans can be a puzzle to navigate.
CopyAI
CopyAI enables easy idea communication for YouTube scripts, social media posts, and more.
Pros: Facilitates communication of ideas with pre-generated prompts, and adapts to personal brand voice.

Cons: Limited in generating fresh short prompts, free prompt usage is restricted.
Tools for AI-Generated Video and AI Video Editing
Synthesia
Video software for creating professional content with avatars.
Pros

: No need to appear on camera, text-to-speech capabilities.

Cons

: Avatars might lack human-like expressiveness and emotional engagement.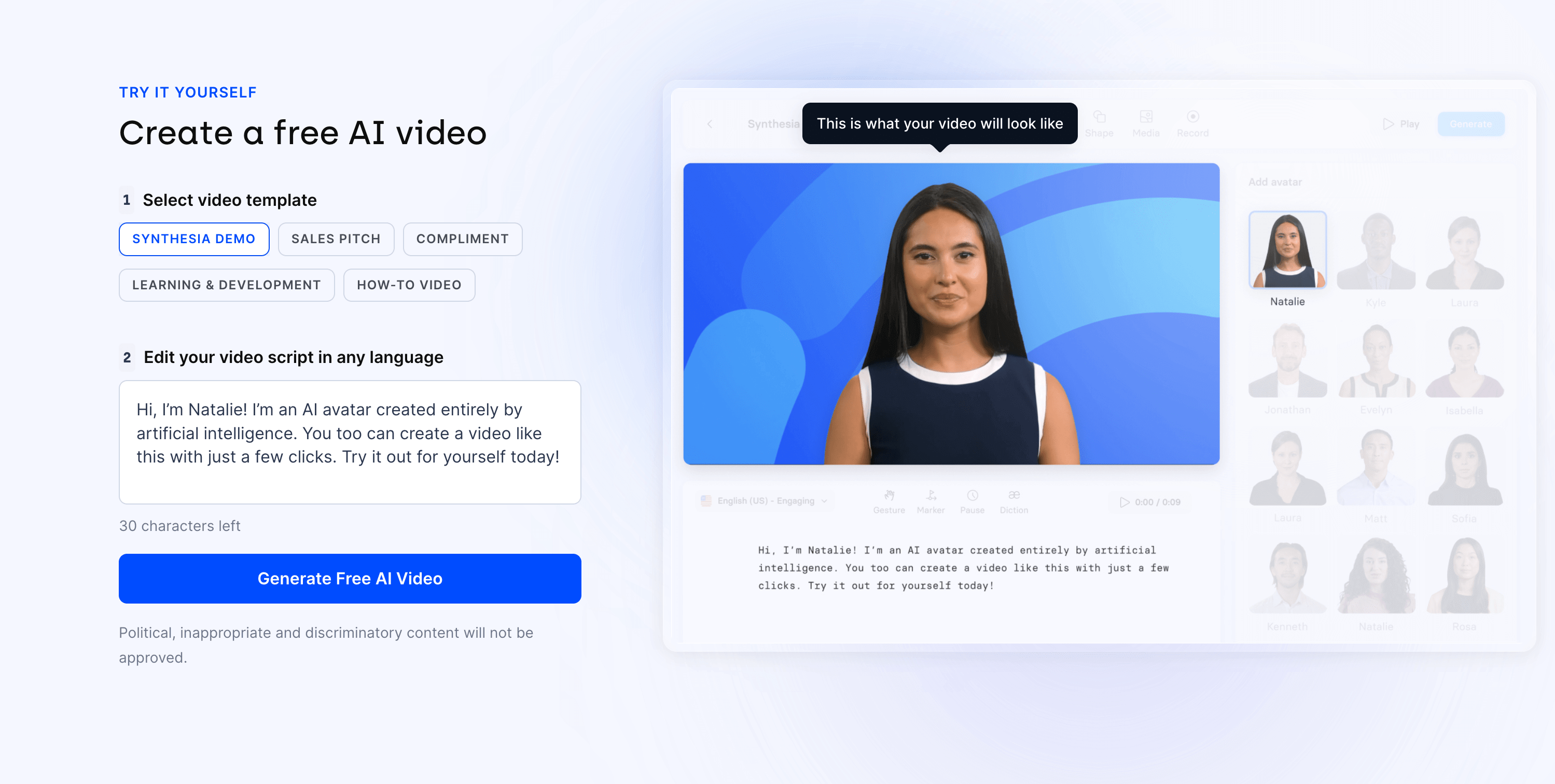 Runway.ml
RunwayML is an AI video editor for quick AI-generated clips and video editing.
Pros: Effective for a variety of tasks like background removal and audio editing.

Cons: AI-generated videos can have visible quality issues and artifacts.
Descript
Descript is a comprehensive AI video editor with automatic transcription, sound enhancement, and the Overdub feature for voice cloning.
Pros: Auto transcription for videos, complete editing journey, easy

aspect-ratio

adjustments.

Cons: Newbies might find navigation tricky, 23-language limit for transcription,

and some manual editing is needed for not-so-perfect transcriptions.
Tools for AI Translation, Dubbing, and Voice Overs 
AIR Translate
AIR Translate is a selection of services offering translation into more than 50 languages, along with dubbing, localization, and optimization. In addition to AI translation and dubbing, creators can also choose to have real people do the voice acting.
Pros: AIR Translate offers convenient full-cycle content localization.

Cons: This is only for YouTube creators though.
Vidby
Vidby is designed for creators. It provides automated video translation in over 70 languages and utilizes AI dubbing.
Pros: Fully automated, blazing translation speed, and online convenience.

Cons: AI translation might fall short of 100% accuracy.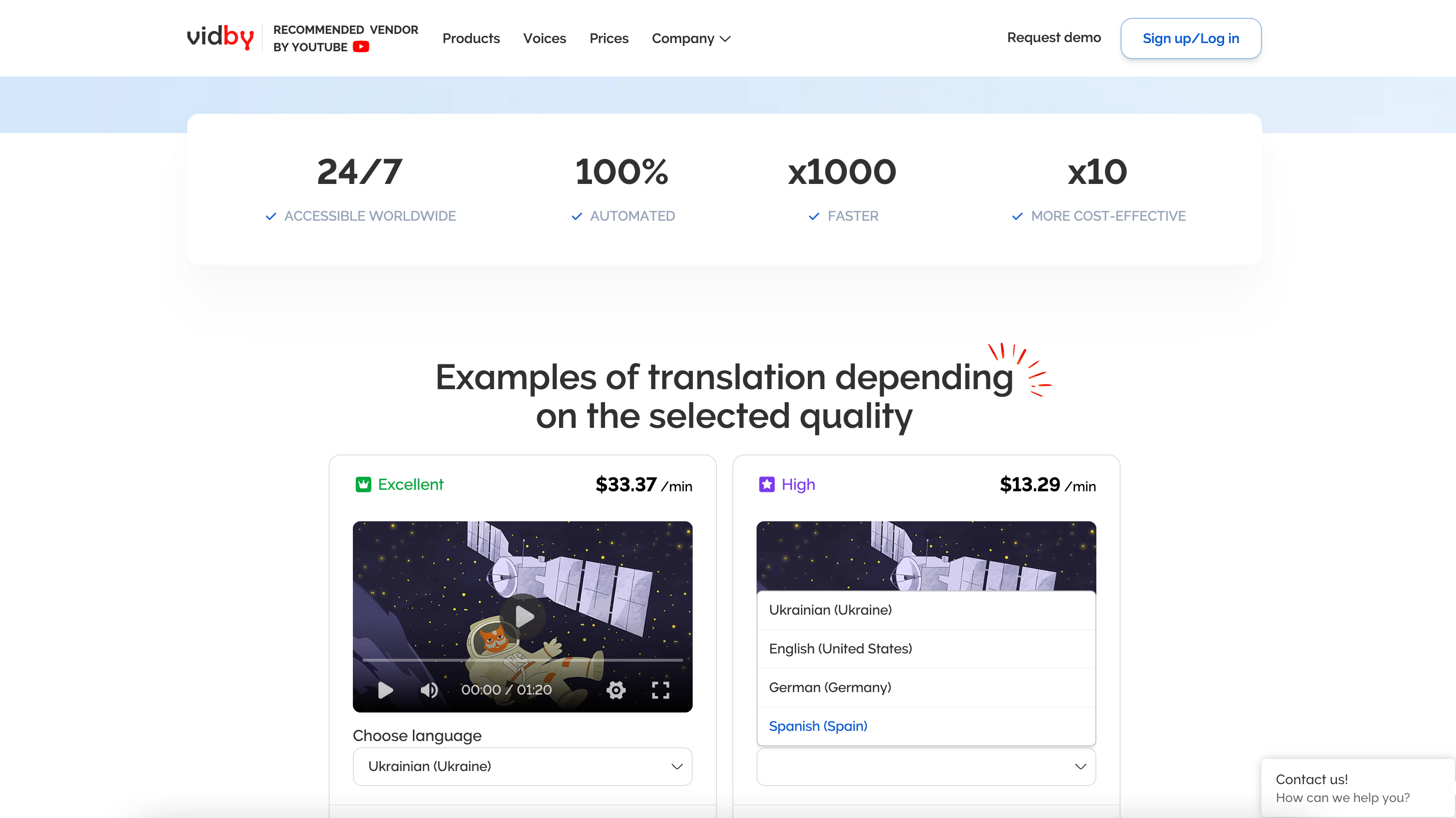 Murf
Murf simplifies creating human-like voice-overs for videos with customizable AI voices and additional content features.
Pros: Offers 20 languages' text-to-speech, emotive AI voice cloning, diverse voice-over choices, and elevates home-recorded voices to professional AI quality.

Cons: Limited flexibility in text box placement and script editing, slight learning curve for optimal use.
YouTube SEO Tools
VidIQ
VidIQ is designed specifically for YouTube creators. It provides features for SEO research, helping you analyze YouTube competitors, optimize videos, and track performance.
Pros: Provides daily idea recommendations with insights into viral potential and higher ranking.

Cons: Limited daily ideas on the free plan, some features require subscriptions.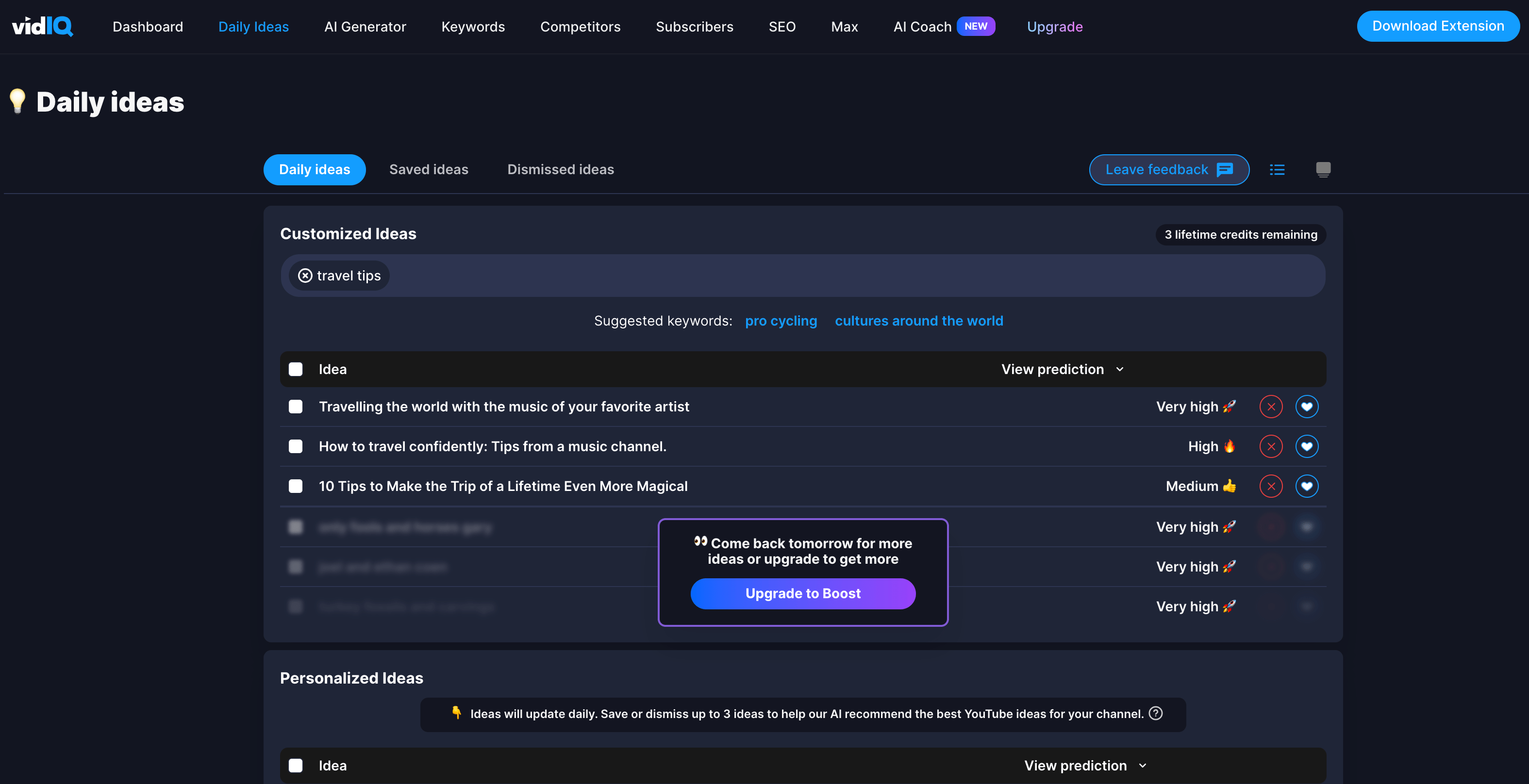 TubeBuddy
Browser extension for digging up SEO keywords and tracking search ranks on YouTube.
Pros: You can reach more people with their auto-translation, plus you get to play around with A/B tests.

Cons: Aged UI, moves slowly but is simple to navigate.
Ahrefs Keywords Explorer
Ahrefs is mostly known as a thorough SEO Swiss knife for marketers, but it also comes in handy for YouTube SEO.
Pros: It's got neat search suggestions and cool bonus features like "also rank for".

Cons: It's more of a marketing team's BFF than optimized for all creators' needs.
With more AI tools taking the stage every day, think of AI as your sous chef in the kitchen of creation. It can slice, dice, and prepare ingredients, but the secret sauce is your unique flavor. Stir in your personal touch, taste-test, and serve up content that's unmistakably you. 
Hope you've spotted some tools that vibe with you from our list! And hey, if you'd like to take your growth to the next level, AIR Media Tech is always ready to lend you a hand.