Whether you're a newbie or an author with a gold button, you can always get more views on your videos! YouTube has an audience of 2+ billion monthly visitors from 100+ countries, and they might love your content!
Air Media-Tech will share paid and organic proven ways to promote a YouTube channel, that will help you reach out to all of these people! Let's go!
17 Ideas on How to Promote a New Youtube Channel
If you have just started producing content and are wondering how to promote your new YouTube channel, use these tips:
1. Ensure High Quality
While the amount of diverse content on YouTube is growing, the first thing to worry about is the quality of your videos:
The resolution should be at least 1080p, but you should still try to strive for 4k.
The sound should be clear, understandable, and without background noise.
Without this, you won't have a chance to promote your YouTube channel. People will just skip your content and you'll lose out on new subscriptions.
Are there some exceptions to this rule? Sure! Breaking news or viral content can be filmed on an intercom camera and commonly get organic YouTube promotion. However, if you are not launching a channel where tons of videos are created without planning or preparation, you'll need to pay attention to the equipment you use for shooting content.
2. Develop Your Unique Style
A unique style will distinguish you from other creators on the same topic:
It can be a visual difference, for example, the author's image, background, or custom intros.
You can also use exclusive greetings, fun phrases, an unusual style of presentation — all these things will help you get noticed on YouTube.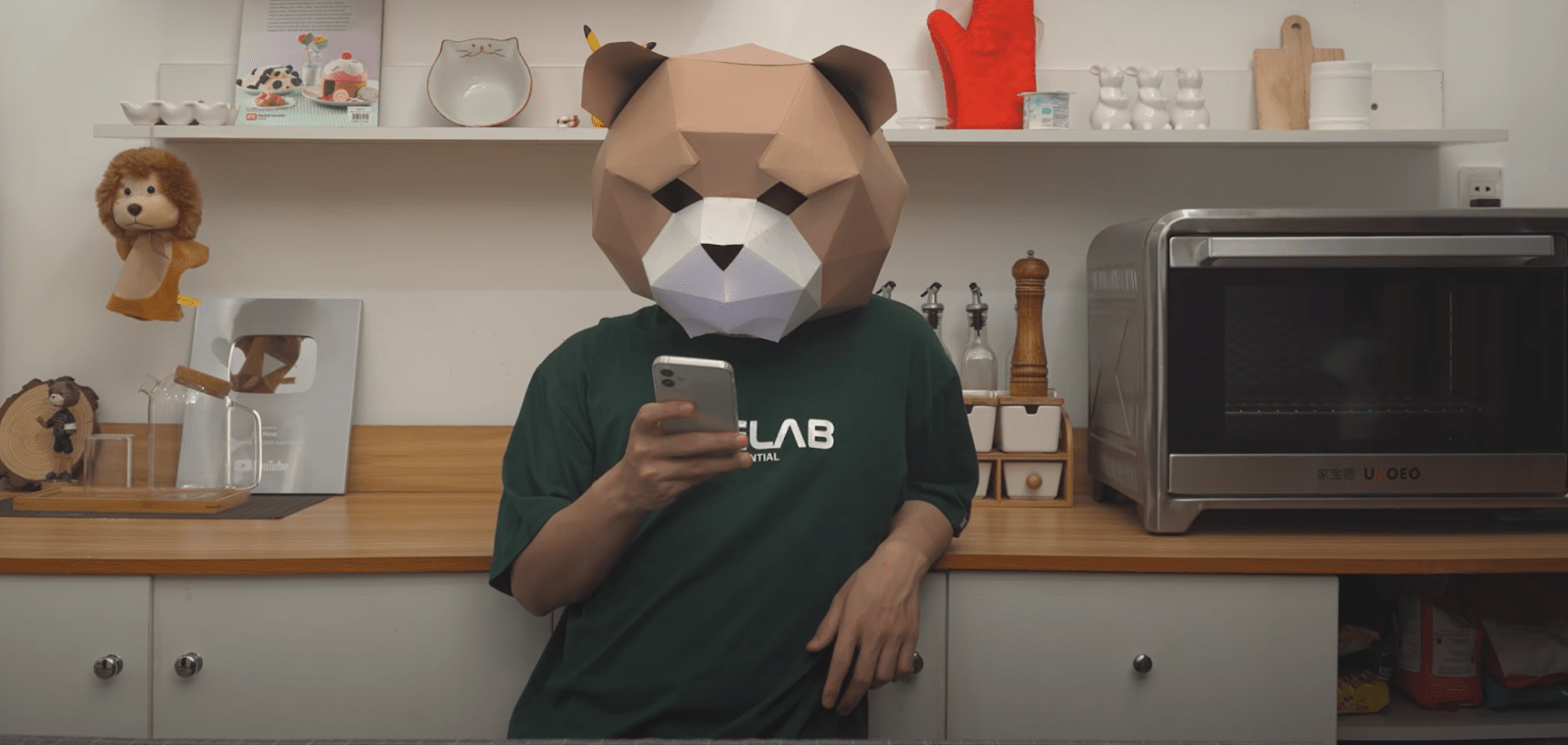 For example, the Nino's Home cooking channel has its own recognizable character, a unique style for content editing, and two cats that always react to their dishes. All this creates a distinctive memorable style and increases YouTube views.
3. Edit Videos Like a Pro
No one likes videos where bloggers use a lot of fillers and parasite words. Also, content filmed against the same background is likely to make people fall asleep and eventually not follow you. The good news is that video editing will solve these problems, and professionally edited content gets more organic YouTube promotion!
YouTube Creator Academy shares 7 steps to a basic edit and even some advanced tips!
Here at Air Media-Tech, we recommend that you:
Create short videos and trim everything that doesn't make sense for your watchers.
Use a second source to record clear sound and add it in while editing.
Vary your shots to make them visually interesting.
Keep a lively pace — don't bore your audience. Use inputs with images or videos with a different background.
Finally, protect people's eyes and use the same color scheme for every piece.
4. Provide Useful Content
Bringing value to the audience is one of the key ways to promote your YouTube channel. The ranking system prioritizes not only SEO-optimized videos but also those that offer the best viewer's experience.
How do you know if your video is valuable? Just ask yourself these simple questions:
Does my video solve any problems for my audience?
Does it entertain them?
Will it improve their lives and be useful?
If the answer is 'Yes' to all of them, go ahead and shoot it! This way, you'll promote your YouTube video even without any paid tools!
Also, try not to copy your competitors who already have millions of views. Of course, you have a chance to get a piece of that pie, however, loyal users will stay with the original source of information.
5. Keep an Eye on Trends
The next important step when boosting YouTube videos is to study and use trends for your content:
Niche trends are a must for everyone. Just look at what the most popular competitors are producing and what people love about their content.
The global level matters as well. Researching global trends will allow you to promote your YouTube channel to new audiences!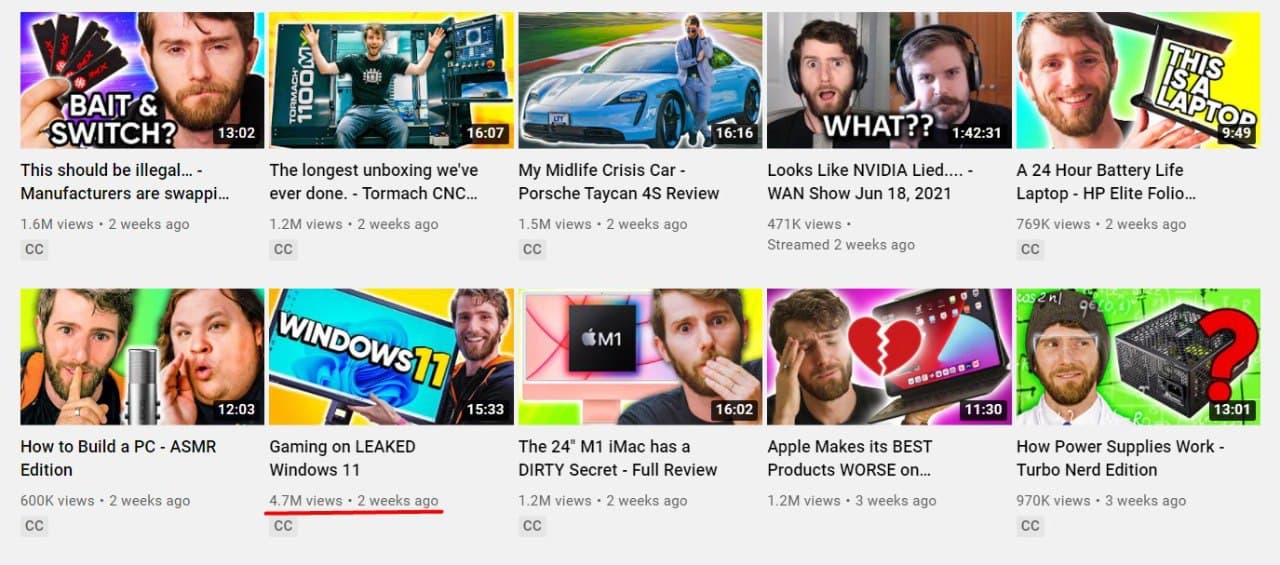 On the Linus Tech Tips channel, one video all about Windows 11 (a very hot topic!) received almost 4x the number of views than their usual content.
6. Rely on Evergreen Content
Successful content creators keep a balance between trending and timeless topics. This helps them get attention even after a certain hot topic has outlived itself. Among such topics are:
How-to's or guides
Top lists of tools or resources
Tip roundups
Educational pieces
Documentaries
Audio stories
Such content will ensure organic YouTube promotion for years. What's more, you can re-optimize and improve it for the search engine depending on popular keywords and reach out to new audiences!
7. Post Regularly
Are you posting new videos once a month and wondering how to get more views on YouTube? Make your audience happy with new pieces even more frequently!
If you're just taking off, try publishing updates once per week.
Advanced creators post every couple of days.
Build a solid content strategy. Having a plan is crucial, as this will give you a hint of how much time is left to prepare a new piece. Bear in mind that the more high-quality and optimized videos you post, the more chances you have to get noticed on YouTube.
8. Translate Videos
Do you want to boost YouTube videos abroad? Then consider people who don't speak English or your native language.
Adding subtitles in various languages will allow you to get attention from foreigners. By the way, in the next point, we'll tell you about the tools that show countries where topics are trending. So you can base your translation plans on research, not assumptions.
9. Include Keywords
This method of organic YouTube promotion is effective for making new audiences notice your trending and high-quality content. The YouTube algorithm looks for key phrases in titles, tags, and descriptions to understand what the video is about and to whom it can be offered.
Keep in mind that using popular but irrelevant keywords won't help. The system will block your content as spam. So, add only relevant words to your titles and descriptions.
Where can you find relevant phrases to get attention?
Study keywords, their relevance, and popularity using several services:
Keywordtool is free web-based software. It shows trending phrases, the search volume, CPC, and the competition level.

Google Keyword Planner is free for everyone who has a Google Ads account. It also shows average monthly searches, competition, and how much the promo will cost you if you use paid advertising on Google.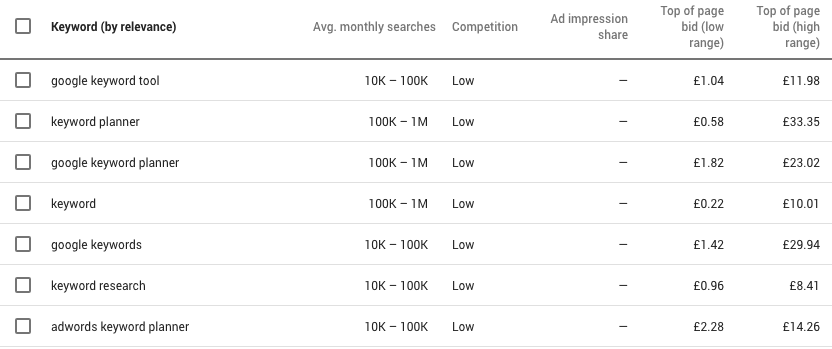 VidIQ is an effective paid tool for finding words that will help you promote your YouTube channel. It shows related phrases, the score, trending videos, and watchers' interest over time.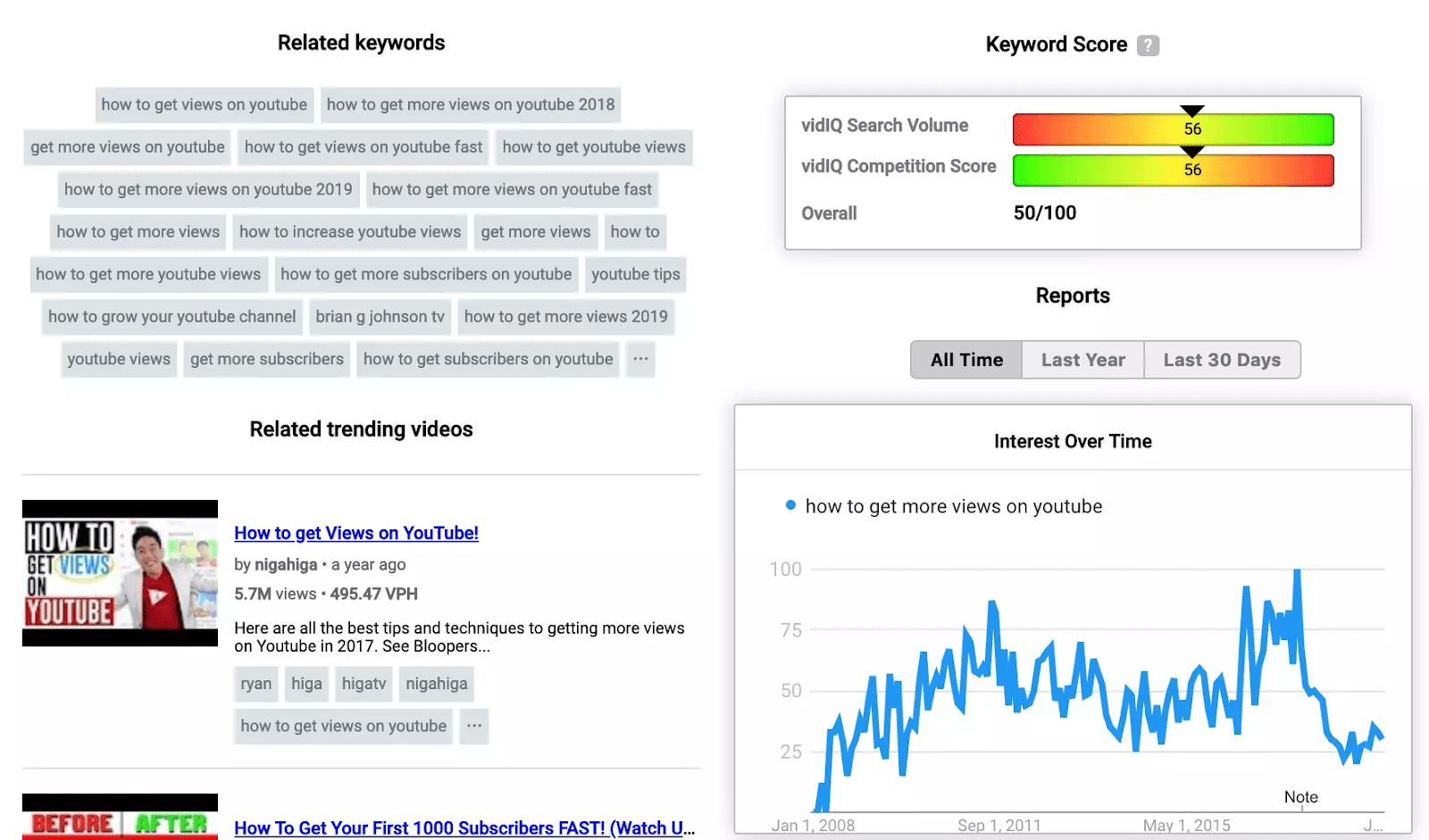 Ahrefs Keywords Explorer is also paid but extremely helpful. It finds the overall search volume, the number of clicks, popularity by countries, as well as relevant phrases.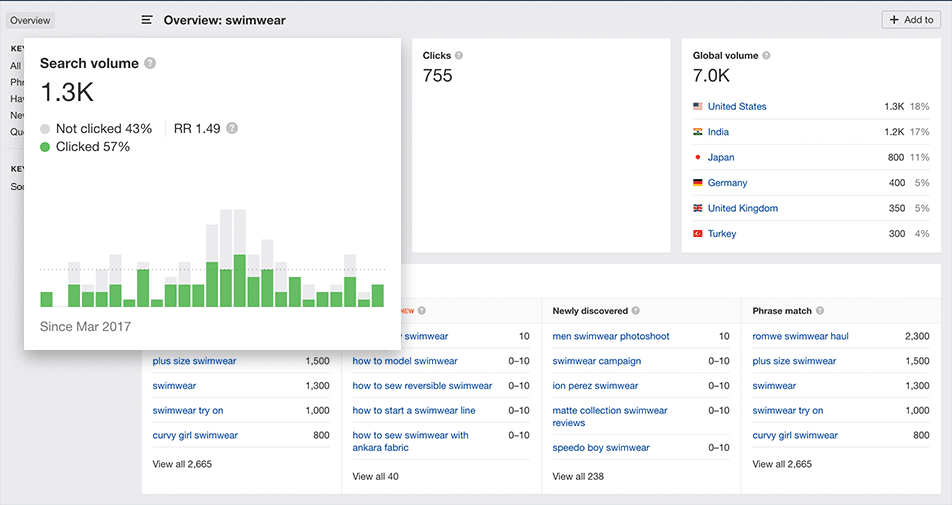 As you can see, all of these tools offer various options of relevant keywords so you have a pool of phrases to choose from.
10. Add Hashtags
Hashtags are clickable additions to your keywords that help you get more views. By clicking on the hashtag, the viewer will be directed to a page that contains all videos marked with that specific hashtag.
A key lifehack: use hashtags with the YT channel name and a unique category name in your video description.
The first three hashtags are displayed below the video player and above the title. So, the likelihood that they will be noticed and clicked is very high.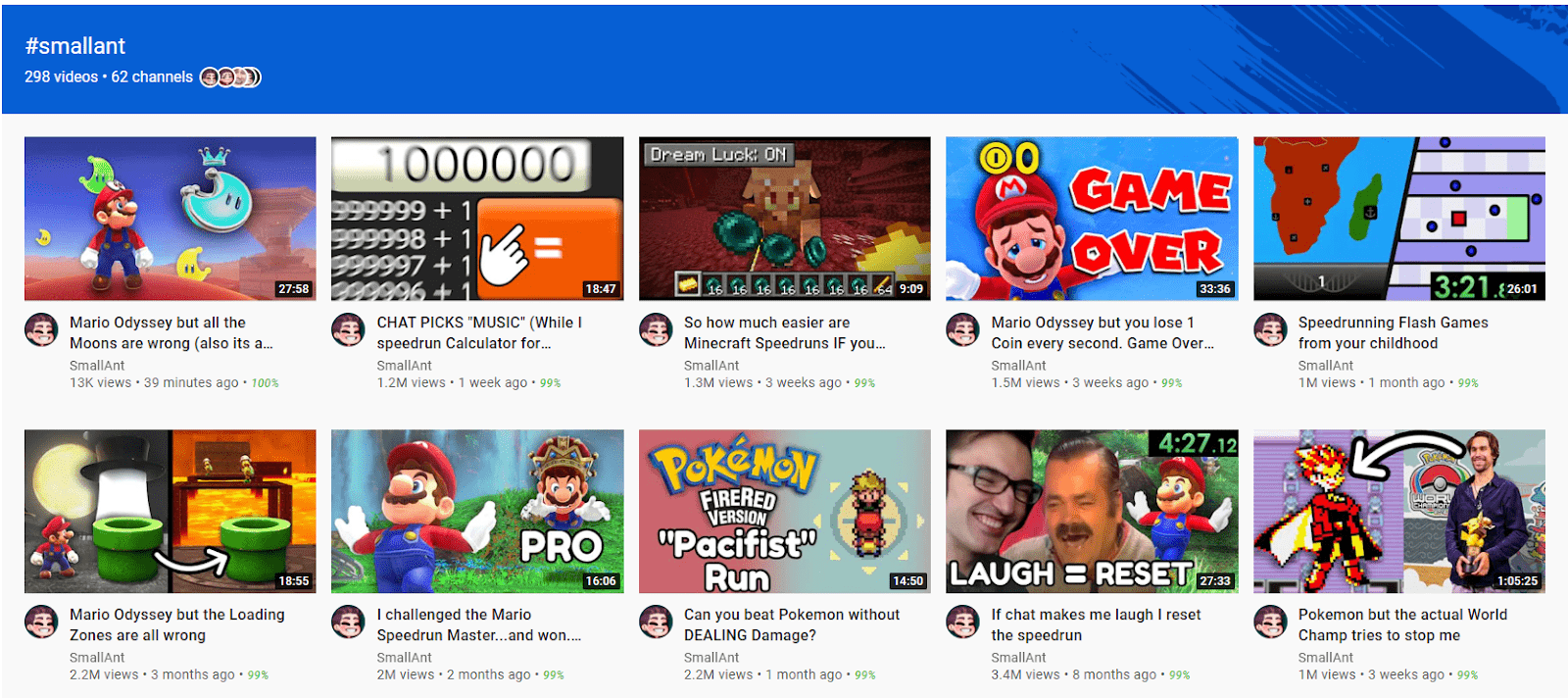 11. Use Attractive Video Covers
So, after the audience finds your content using keywords, they should see it among tons of other videos. Bright and unusual covers will help your videos get noticed on YouTube!
Here are a couple of recommendations:
To get attention, don't overload the cover with elements.
Bright colors are a must-have.
Use minimal text and only if necessary. If you can omit it, don't add even a word!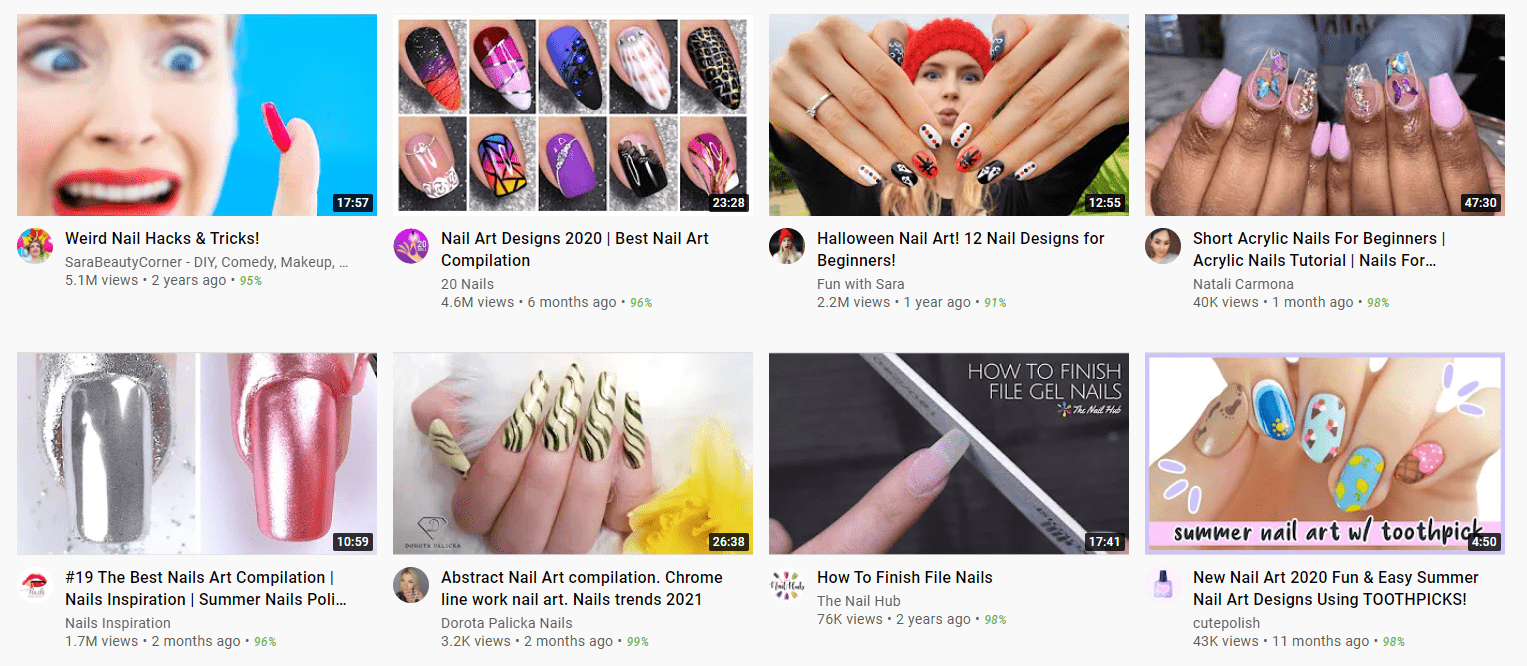 Here's an example of manicure video covers. They should show the result of the video so that the viewer immediately understands what awaits them.
12. Increase YouTube Views With Socials
In addition to promoting your content on YouTube, it is recommended you share it to other social networks — Facebook, Instagram, Twitter, TikTok, and even Reddit! Repost links as posts or stories.
Also, posting links to your videos in thematic groups and communities is one of the great ways to promote a YouTube channel too. The more people notice you, the more subscribers you'll get. Just don't overdo it, as community admins may consider too much posting as spam!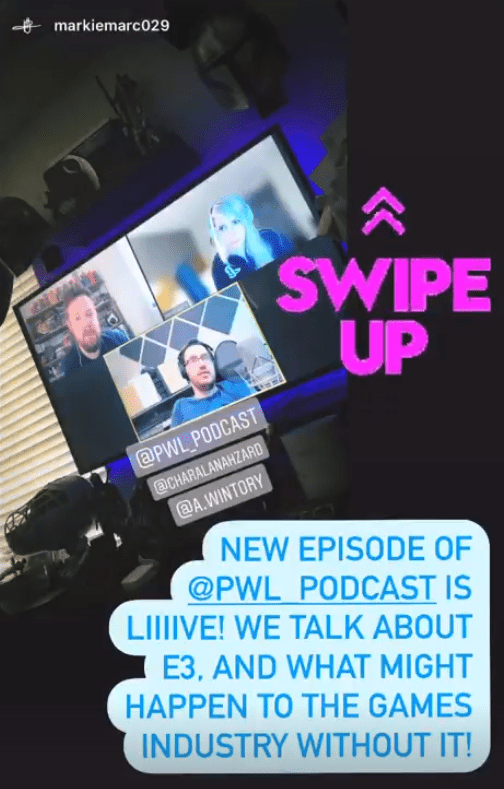 Except for socials, you may also try an email newsletter or context ads in search engines.
13. Encourage Interaction and Add CTA's
One more simple yet super effective way to promote a YouTube channel is communication and interaction with viewers:
Ask viewers to like and share videos.
Urge them to subscribe and turn on notifications.
Tell them that you will continue covering the topic if the video gets 10,000+ likes.
Ask for their opinion and reply to people in the comments.
Keep in mind that you should use this final tip at the end of your video. The viewer has just started watching and cannot rate it or subscribe to a channel they don't know anything about yet. Choose the best moment when the viewer realizes the advantages of subscribing to the channel.
14. Comments Are Power
One of the key secrets for how to get more views on YouTube is proper communication, as noted in the point above. It's crucial not only to reply to comments and like them but also to respond to them in future videos.
The entire content or part of it can be built on communication with commentators, thereby motivating them to be more active. Does your audience want you to cover a specific topic? Why not, add it to the plan to get more organic YouTube promotion - people will likely share the content that fits their personal interests. Also, this will give you an idea of what's really popular among your audience.
15. Attach Cards to Videos
Another fairly simple tool that helps creators increase YouTube views is cards, which work like hints for viewers. Cards can transfer users to other videos and extend the viewing session of your channel.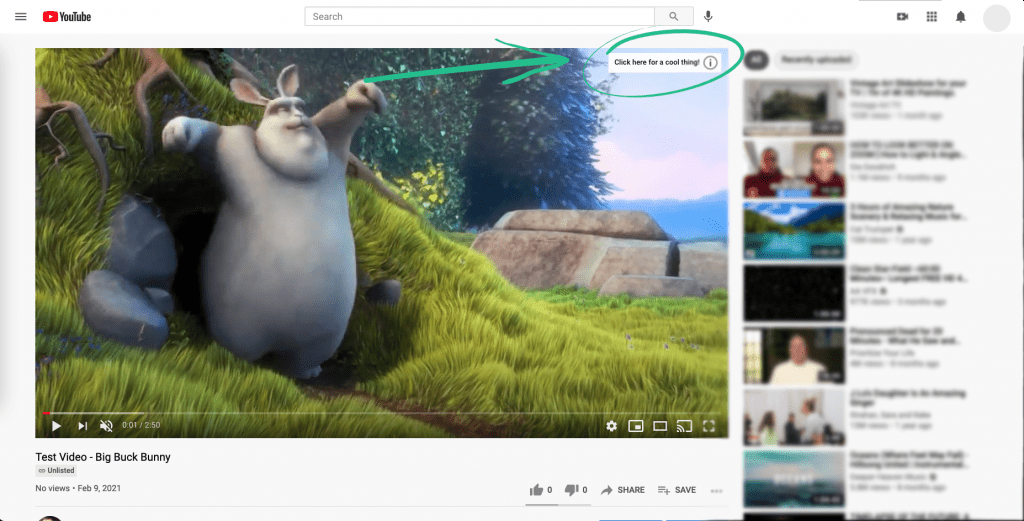 You can add them when editing a video in the YouTube Studio. 'Cards' are located under 'Visibility' and 'End screen'.
Make sure you're putting cards at the right moment so that viewers are interested and likely to click on them. We'd recommend putting them while mentioning other videos. If you're in the frame, you can even point to where the card is, as this girl did: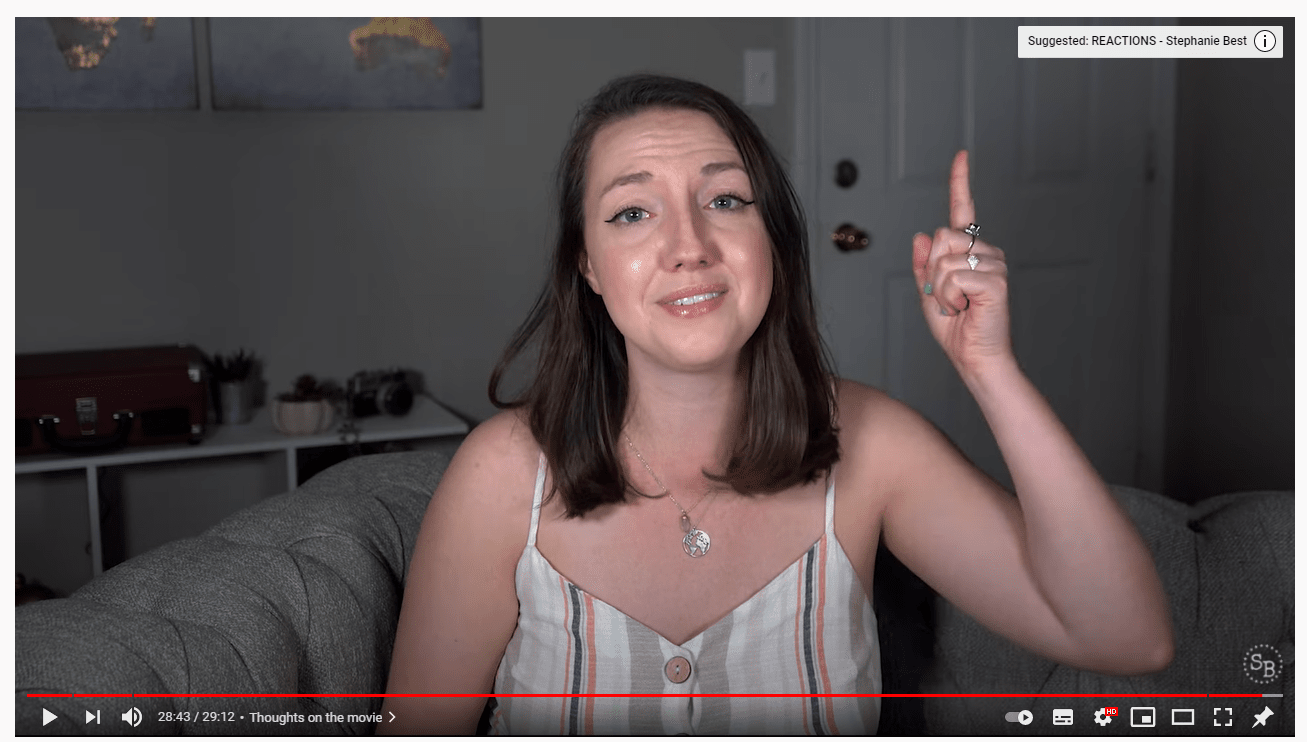 16. Add Links to the End Screen
One more effective way to increase YouTube views is to add suggestions to the end screen. Nevertheless, just putting them there may not be enough for success. Why? After hearing 'Goodbye', viewers will simply switch to another video from YouTube's suggestions, without waiting for your own links.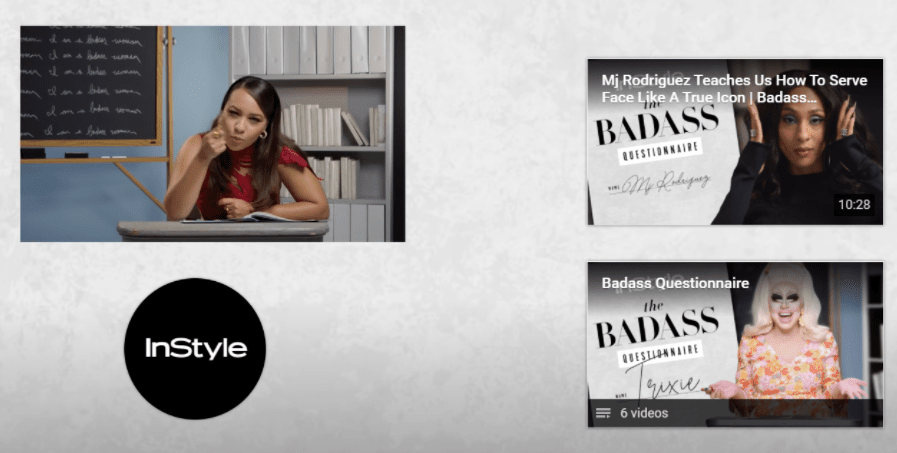 So, after finishing your talk on the topic, ask visitors to switch to another video from your recommendations and subscribe to the channel. Only after that say 'Goodbye'.
In most cases, 2-3 suggested videos are enough. It works just like in regular stores - when the choices are too great, the customers can leave without buying.
17. Run Paid Campaigns in Google Ads
YouTube paid promotion works well for both newbies and those creators who need to boost their exposure. Google Ads offers a great variety of promos that you can set up from your advertising account.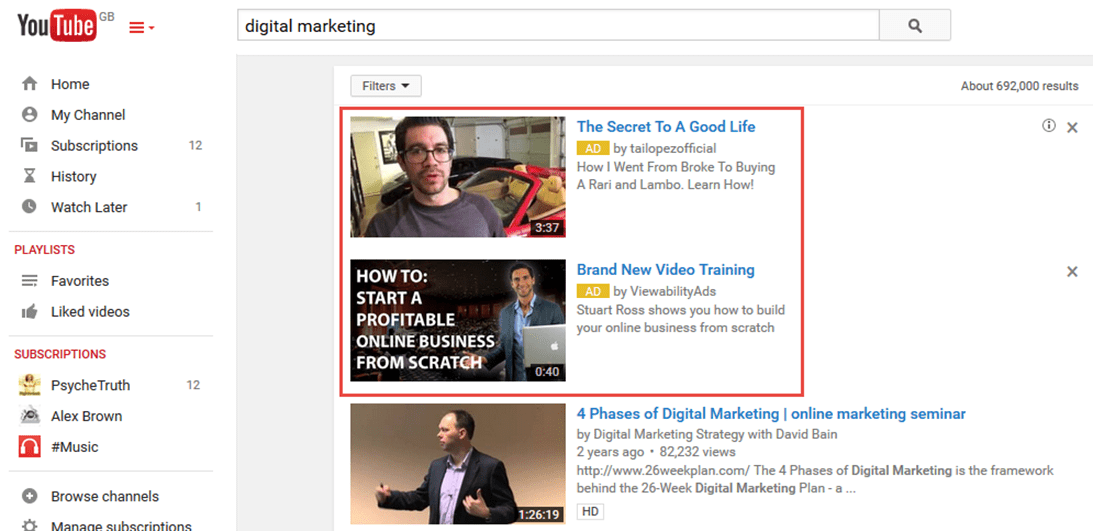 Here's how to do this:
From your Google Ads account, start creating a new ad campaign.
Choose the goal
- Product and brand consideration
- Brand awareness and reach
- App promotion
- No goal's guidance
From the types, select 'Video'. There will also be 'Search', 'Display', 'App', 'Smart' and 'Shopping'.
Next, select a campaign subtype:
- Custom video campaign
- Non-skippable in-stream
- Outstream
- Drive conversions
- Ad sequence
Customize your promo and add details.
Choose the target audience for the YouTube algorithm to find the right viewers.
Specify keywords and topics.
Launch and grow with new paid views! :)
Here are more tips on launching effective ads from YouTube itself!
How to Promote a YouTube Channel after Getting a Gold Button
Now that we've finished with the basic ways to promote a YouTube channel, what comes next? Here are Air Media-Tech's recommendations for creators who have already tested the above-listed methods and are looking for something more advanced:
1. Focus on the Audience
When the channel has already gained its audience, it is essential to maintain a great relationship with it.
Be the first to comment on your new video. Ask people to share their opinions under it.
Answer some of the comments under the video, participate in discussions.
Lead the Community, post behind-the-scenes videos, teasers of future videos, and create polls. This way, your audience will consume additional content and have a chance to interact with the creator.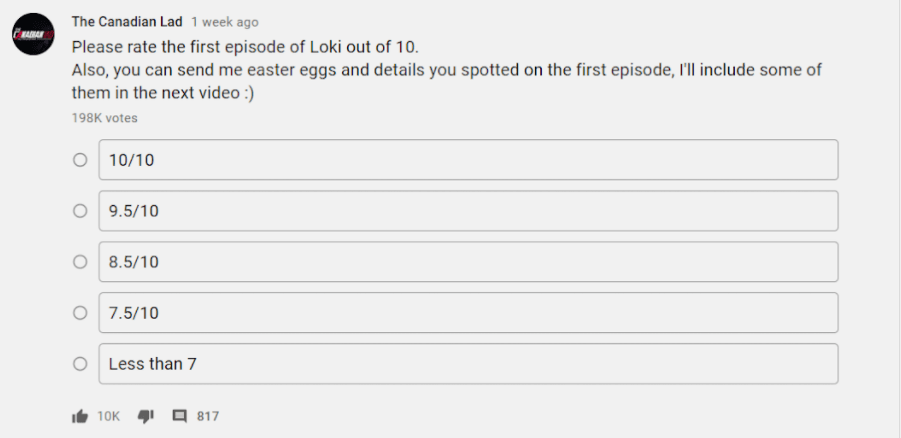 For example, the Canadian Lad channel informs the subscribers about what content is coming soon and asks for feedback about the series.
2. Hold Live Broadcasts
Even if your channel is only focused on video publishing, it is worthwhile to broadcast live from time to time.
Make a simple one with Q&A sessions, having previously informed the viewers that there will be a live broadcast and that they can ask questions.
You can come up with a topic for the broadcast and tell/show something while answering questions.
It can also be an interactive game with the audience, for example, guessing facts about your channel.
The longer and richer your broadcast, the better for the channel.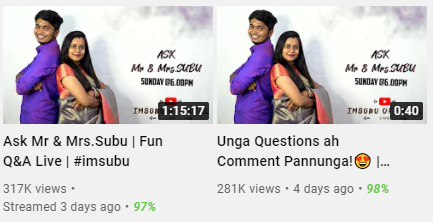 Here is an example. This channel made an announcement the day before their broadcast so that people could schedule it and come up with questions.
3. Try Out 24/7 Broadcasts
Endless live streaming that goes on constantly is appropriate for promoting a YouTube channel. This works best for gaming, music, or movie channels.
Such a method may be suitable if you have a lot of content and your users can watch it in the background:
Music compilations
Episodes of series
Meditation videos
Online games walkthroughs

Endless broadcasts supply channels with additional watch time and traffic, which greatly affects the channel's promotion, because YouTube values watch time most of all.
4. Collaborate with Other Creators
Attract new audiences by collaborating with both channels of the same and similar topics.
First, find brands or bloggers that suit your style and personality.
Check if their videos reflect your audience's needs.
Think of the value that your cooperation will provide for the viewers.
Negotiate with them about the mutual promotion of your YouTube channels.
Shoot!
Keep in mind that people love authentic, fascinating, and exclusive collaborations. Sometimes, you should try even the wildest ideas. Cooking + hip-hop channels? IT and sports? Beauty and music? Anything can work if your audience is eager to see it. Remember to keep an eye on their comments! ;)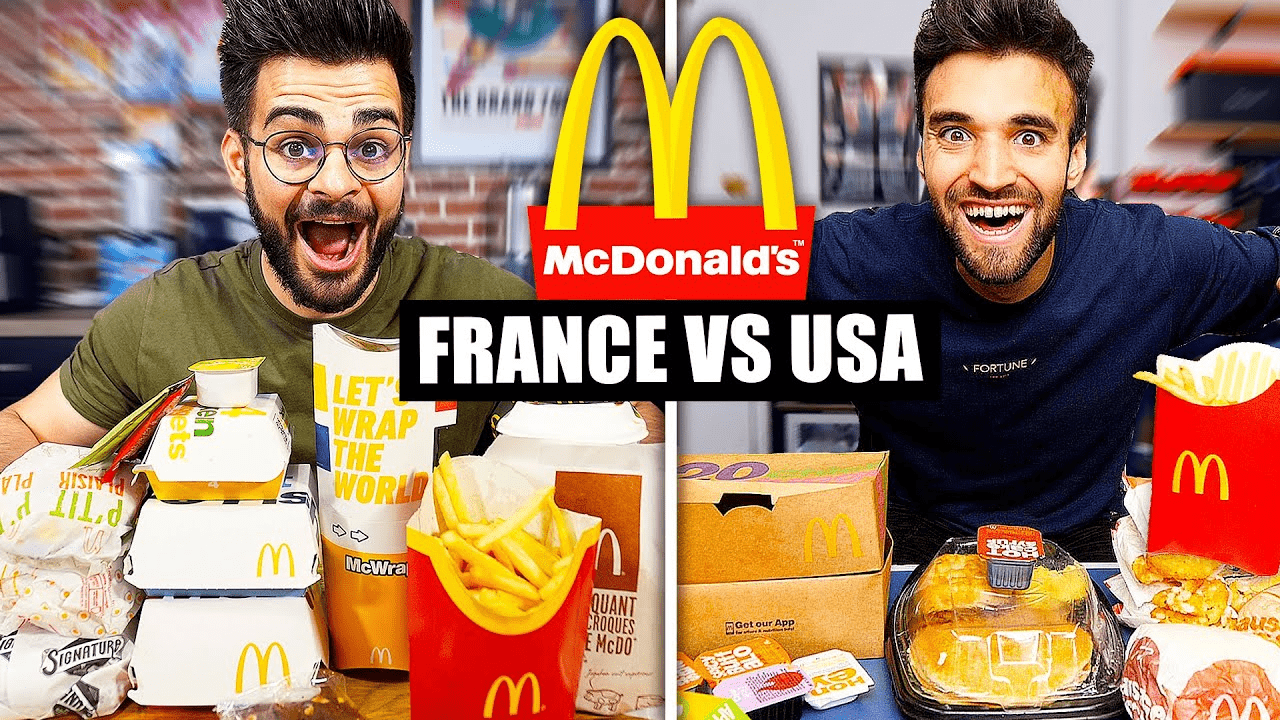 Here is an example of a typical collaboration. Bloggers from France and the USA decide where the food from McDonald's tastes better.
5. Benefit from Shorts
Shorts is a fairly new organic YouTube promotion feature that allows you to create short videos (10-30 seconds). They are displayed in separate sections of the YouTube channel, feed, and home page, making them more attractive to new audiences.
Shorts allow authors to draw attention to both channels and videos.

6. Conduct Giveaways and Contests

Everyone adores prizes and gifts! So, this final and efficient method will help you both increase YouTube views and get noticed on YouTube!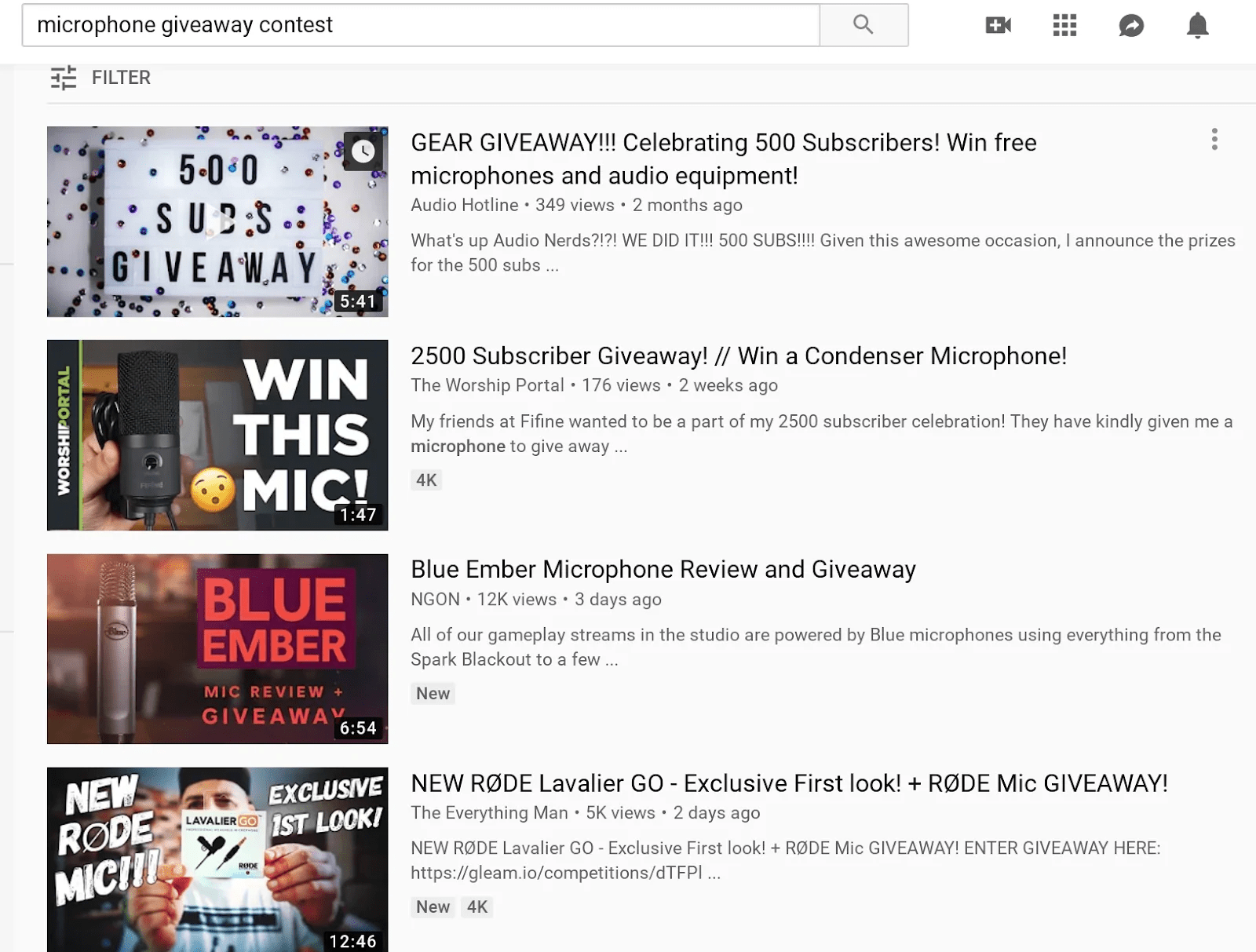 How to get started?
Set a clear goal. For example: 'Get 1000+ subscribers/likes/comments. This will help you measure the success of your contest or giveaway.
Decide whether you want to do a cooperation with someone or if you'll run the promo alone.
Create a plan and rules for action. What should your watchers do to get a prize?
Check if you are not breaking YouTube's rules for contests.
Choose a prize that will cause a stir among viewers and bring more traffic.
Start your campaign and maximize the reach by reposting it to socials, blogs, etc.
Conclusion
We hope every reader found new answers to the question: "How to promote your YouTube channel?" And if you've already tried everything from the first part, try out the six ways to get noticed on YouTube for advanced creators.
You may start by noting the tips you're going to use in your to-do list and trying them out asap. You won't wait long for results!