We've heard about some great advantages to using 24/7 live streaming on YouTube and how significantly it can grow a channel's traffic. But is it really that easy to start streaming and what does it take to start?
Watch our detailed video guide or check out the detailed review in this article.
What is Continuous Live Streaming on YouTube and What are the Benefits?
With 24/7 live streaming, you can broadcast your pre-recorded videos on a loop. The streamed content will endlessly run on a cycle until you terminate it. It's important to understand that streaming your existing videos to the channel is not the same as uploading videos. After you terminate a live stream, the content disappears but views, subscribers, watch time, and revenue generated by it remain.
The thought of re-using existing videos to grow a channel's key metrics makes 24/7 live streams more and more attractive to creators. Many big companies, including Disney and Discovery, have already created private streaming platforms. The experience of using live streams on YouTube by creators and companies has a number of proven benefits: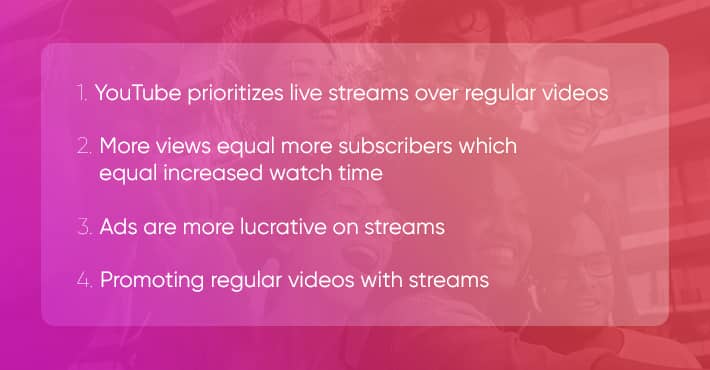 YouTube prioritizes live streams over regular videos. The first and foremost game-changing factor for every channel is traffic, and that's what 24/7 live streams are so good at delivering. Live streams rank higher on YouTube and consequently generate more views.
Streams are not limited by time. And any interested user can search and find your videos at any given time.
More views equal more subscribers which equal increased watch time.
One of the major benefits of live streams is that you can run multiple continuous streams simultaneously on different topics on one channel. Given the fact that your streamed content is easier to find since it's always there, and that you can engage viewers in several content themes, your channel's watch time grows significantly.
Ads are more lucrative on streams.
Your streamed videos receive more ad placements and commercial views. Advertisers are more interested in streams than regular videos resulting in higher ad revenues on live streams than on regular videos. And the great news for creators in the kids segment: ads are more expensive on streams than on regular videos for kids content!
Promoting regular videos with streams.
Live streams are a great way to promote your regular videos. With live streaming, users that have only watched your older videos or haven't watched your content at all, are motivated to visit your channel for your other content.
Is 24/7 Live Streaming A Good Choice For You?
After reading about all the advantages of continuous live streaming, you're probably still wondering if it's worth it or even if your channel can do it at all. So, who can use 24/7 live streaming on YouTube? Anyone who creates high-quality and safe content on YouTube can use their videos for streams. Just make sure your content complies with YouTube Community Guidelines and you're good to go!
If your channel is relatively small, streaming is also a great way for you to grow your audience. Since streams are promoted better by YouTube algorithms, you will generate watch time and subscribers faster which is vital for your channel growth and for enabling monetization. To stream on mobile, you need at least 1,000 subscribers on your channel. But streaming through a computer or webcam has no restrictions.
Continuous live streams are an especially great fit for the goals of music channels on the platform. Although, in order to play music on your stream you need the permission of the copyright holder. Streaming unauthorized content will cause further restrictions with the platform.
How to Start Streaming
Now, to start streaming you have two options. You can either organize the process yourself by using a computer and software or use a cloud server. Let's compare the two options.
To start streaming on your own you will need:
A powerful computer. The computer you use for streaming has to be on for the entire stream time and you won't be able to use it for other purposes. Plus, you can only use one computer for one stream.
A specific software program for your computer.
Stable access to Wi-Fi.
Constant monitoring of the streaming process for continuity and streaming effectiveness.
The process of streaming requires your attention and can't be left on its own for too long.
If anything goes wrong with your computer or Wi-Fi connection, your stream will be interrupted and you'll lose the audience.
How to stream with a cloud server
Cloud servers come with a cost but provide undeniable advantages. Streams are launched from a private server with a personal IP address that is created specifically for you. You only need good Internet to upload your videos to the cloud server and start streaming. Neither your equipment nor your involvement is necessary after the stream is started. After you upload your videos to the server, there is no need to keep your computer turned on or even connected to the Internet. But we recommend restarting your looped streams every 3 days to achieve maximum efficiency.

YouTube allows up to 8 simultaneous streams and with a cloud server, you don't need a separate computer for each one. You can run multiple streams using one computer.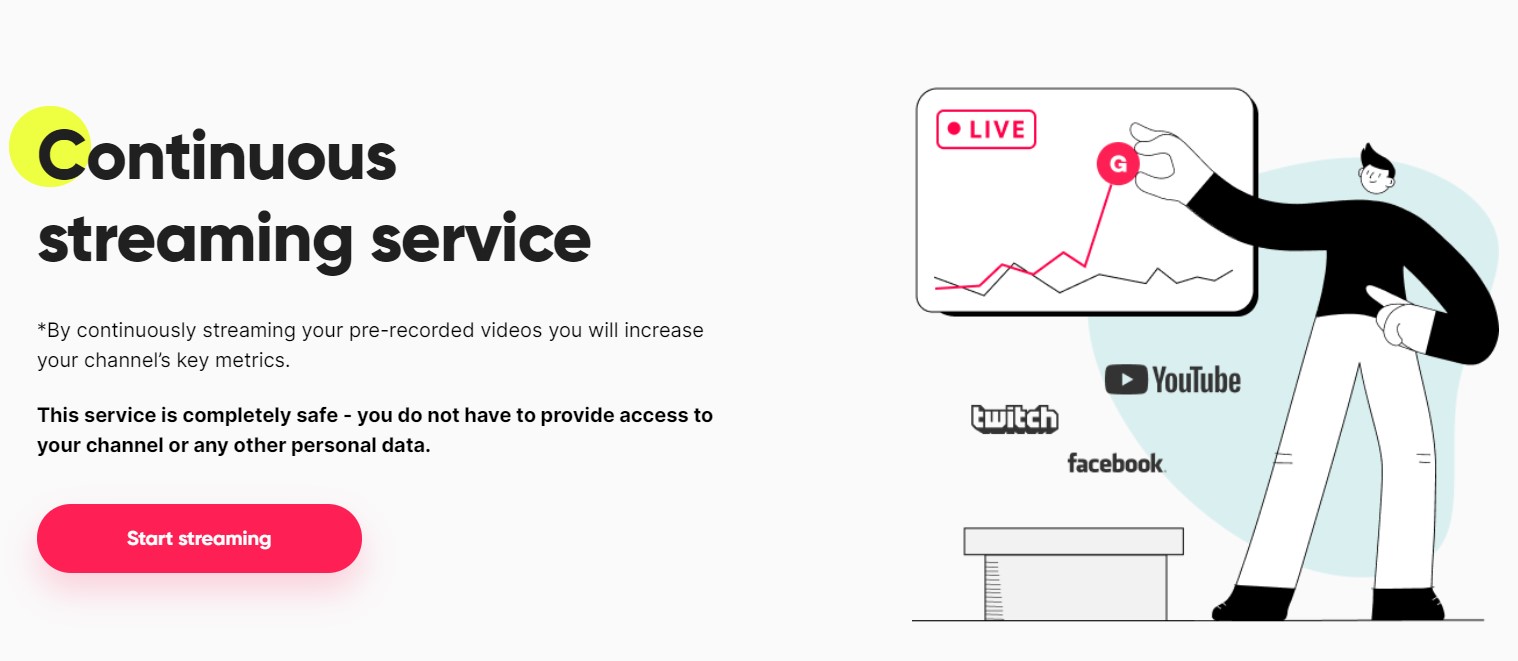 One of the continuous streaming services that offer a free trial and the best service packages is Gyre. Besides all the advantages mentioned above, Gyre also streams to Facebook, Twitch, and any other platform that uses an RTMP protocol. The service is fully compliant with YouTube Guidelines and does not require access to your channel or any other personal data. Check out Gyre to start your free trial and test all the benefits of 24/7 live streaming for your channel.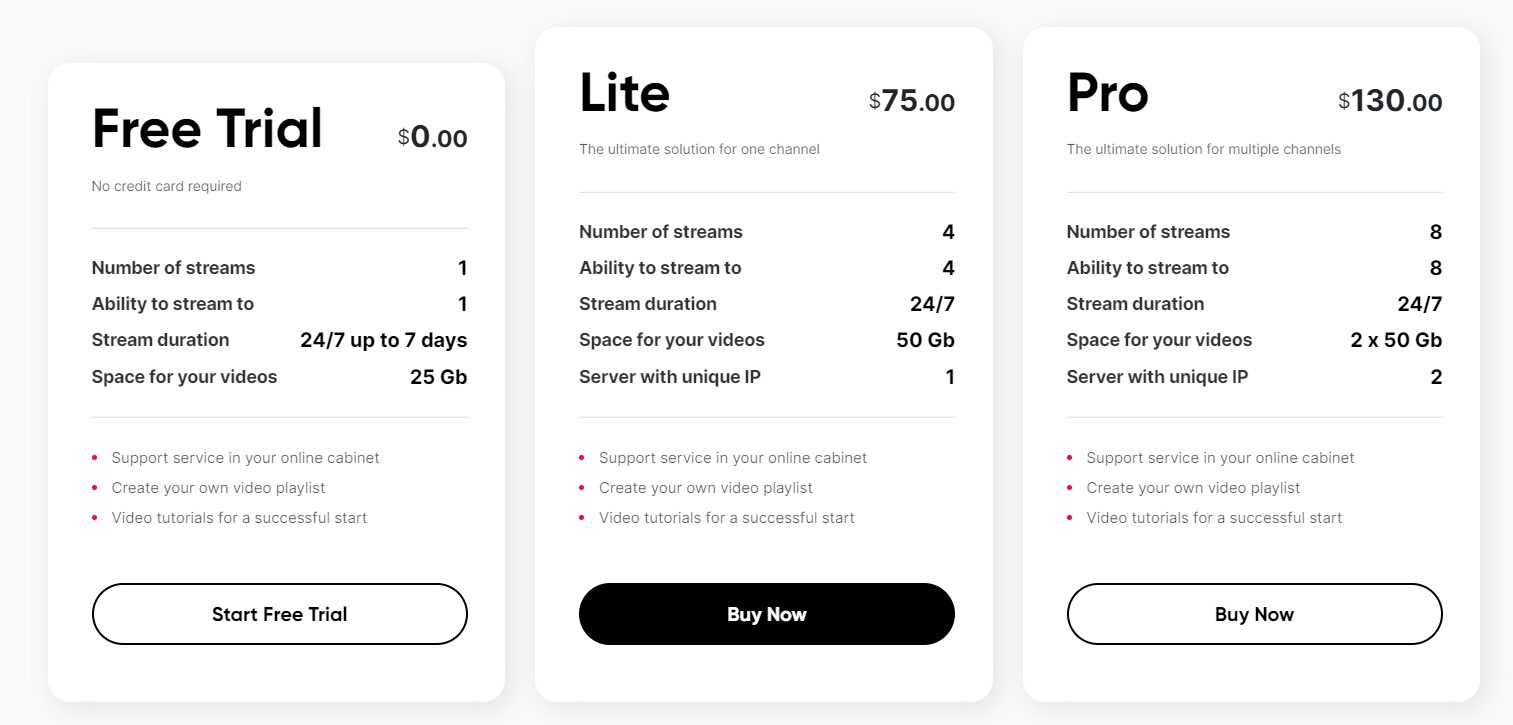 In Conclusion
To achieve results and grow on YouTube you have to take advantage of platform algorithms. Recent platform trends show that YouTube's algorithms are now better at promoting streams than regular videos because audience retention rates on streams are higher than on regular videos. Plus, the fact that you don't have to create special content for streaming and that you can efficiently use your pre-recorded videos to grow your channel and popularity make continuous live streams an even more attractive solution. Other creators are already growing their channels with live streams. Don't miss the opportunity to take advantage of this easy and successful tool.