YouTube offers several awards to its very creators for achieving specific successes. These prizes are called YouTube Play buttons or YouTube plaques. They are a series of YouTube awards that aim to recognize its most popular channels. The awards are based on the number of channel subscribers, but the final decision rests with YouTube.
Subscribe to our newsletter and learn unique insights to promote your YouTube channel from scratch. We will help every creator to get the coveted YouTube play button.
In fact, YouTube plaques are just a gift from the organization that helps build brand awareness and stimulates further development.
In this article you'll discover how many subscribers you need to get a play button and some helpful insights on how to achieve this.
What are the YouTube play button levels and how to reach them?
As of 2021, there are four basic YouTube Play button levels:
YouTube Silver Play Button -100k subscribers;
YouTube Gold Play Button - 1M subscribers;
YouTube Diamond Play Button - 10M subscribers;
YouTube Custom Play Button - 50M subscribers.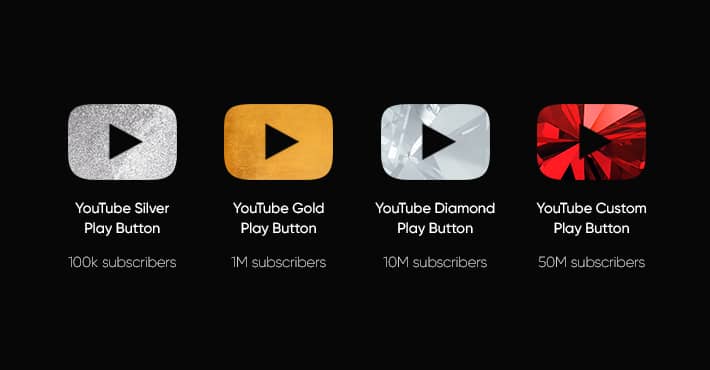 For the first time, YouTube presented the Silver and Gold buttons in 2012 at the VidCon video conference. A little later, in 2015, the diamond button appeared. The highest play button is the Ruby Button. Swedish blogger Felix Chelberg (PewDiePie) was the first to receive it. This was the first time the channel reached 50 million subscribers and received the most significant YouTube play button. In 2019, the first account with an audience of 100 million appeared on video hosting - this was the exact number of the T-Series account subscribers. Let's take a closer look at how to get each of the buttons.
How to get a silver Play button?
To get the very first plaque, you need to get 100,000 subscribers. After crossing this milestone, the channel owner is presented with a silver Play button as a reward.
How to get a gold Play button?
A much bigger achievement is the golden Play button, which is gifted to a million subscribers. Several years ago it was considered really valuable, but over time, more and more users appeared on YouTube, and it became easier and easier to gain a million. But many channels are still striving for the golden button. You may have wondered: Is the golden YouTube button really golden? We're sorry to disappoint you, the prizes are made of gilded brass.
How to get a diamond Play button?
There are far fewer channels with the diamond Play button award, which requires an audience of 10 million subscribers. The silver and gold YouTube button is much more common. The number of people with the diamond button is similar to the population of two large cities. It is not for nothing that the owners of such an army are awarded such a prize, because this is really a great achievement.
What is after the diamond play button?
The most significant YouTube creator award goes to channels that have reached 100 million subscribers. They can receive the Ruby or custom YouTube Play button. 
How NOT to get the Youtube Play button?
Before issuing a reward, YouTube inspects the channel to meet certain criteria.
Authors who do not meet the following criteria will not be able to claim the prize:
Your account must not violate the YouTube Community Guidelines;
The account must not have warnings about copyright infringement;
The account must have a good reputation;
The account must comply with YouTube's Terms of Service;
Your content must be original.
In individual cases, even if all the rules are followed, YouTube may refuse to present a button.
When the channel reaches the necessary popularity, a notification appears in the YouTube Studio. It describes the algorithm of actions step by step:
Apply;
Get a unique code from the Youtube administration;
Use it to arrange delivery on a particular website.
If more than three weeks have passed since you reached a required number of subscribers and have not received a notification from YouTube in the Creator Toolbar, you should contact YouTube Support.
Sometimes the author may not receive a code for ordering an award, and we, as partners, help with obtaining it or try to figure out what is wrong with the channel to fix all of the issues.
Can I buy a YouTube Play button? 
When it comes to the original award, the answer is no, except when the owners of the buttons themselves put them up for sale.
One more thing: all buttons are named, so they are unlikely to be beneficial to you.
Of course, private workshops make copies of YouTube plaques, but this kind of false "reward" will not satisfy you. 
Moreover, if you decide to buy a YouTube Play button YouTube has the rights to:
Withdraw the received award from the author;
Deprive the author of the right to receive awards in the future;
Ban the YouTube or Google account. 
YouTube Video Promotion Tips or How to Reach 1 Million Subscribers
Air Media-Tech strives to provide their partners with solutions to achieve new horizons and expand their audience. We've helped many well-known Youtubers to succeed, among them are:
Boram Tube Vlog - 28M subscribers;
Kids Diana Show - 77M subscribers;
DONA - 22M subscribers;
Vlad and Niki - 67M subscribers;
ToyPudding TV - 26M subscribers.
Let us provide some basic steps to improve the visibility of your channel and gain more attention.
You can also watch a detailed guide on hacking viewer's attention in the Accelerate Your YouTube Channel Growth video here.
Keep an eye on the security of your Google account! 
You need to secure your account as much as possible from hacking. If the account is poorly protected, there is a high probability that fraudsters will hack it, and it is not a fact that you will recover it. Even if you recover the account, you will have lost essential time developing the channel. You may also lose traffic you've been working to get for years. 
Be a Law Abiding Contributor - don't violate the community guidelines, copyright, and other YouTube rules. 
YouTube loves reliable partners who have had an impeccable reputation for years. These are the partners YouTube promotes best. If you realize that some points on your channel can negatively affect the reputation of the channel (strikes, monetization restrictions, copyright infringements, etc.), we recommend that you address those issues. Do your best to clear the channel from these negatives and restore the channel's reputation. 
Create copyrighted content
YouTube allows you to use other contributors' content through its fair use guidelines. But if most of your content comes from other authors, it increases the chance of having copyright and content monetization problems. It is better to give up on this in the long term and create 100% copyright content. Your own content will eliminate the copyright issue, and remove the barrier of reaching 1 million subscribers.
Regularity
Post videos regularly! The frequency of publications is not as crucial as its regularity. Choose a publication schedule for yourself that you can comfortably and consistently maintain (for example, one video per week) for a long time (for example, 1-2 years). Also, consider your vacations or unforeseen situations, and plan to have a few videos in stock that you can publish when you do not have the opportunity to create content (i.e. force majeure) to maintain the regularity of publications. 
YouTube loves stability. 
Explore YouTube Analytics 
Be sure to study and focus on YouTube analytics when creating new videos. Over time, you will precisely understand which tricks improve channel performance (and you need to use them more), and which do not work and need to be abandoned. Doing this will help you perfect content and other vital actions (posting times, subscriber activity, etc.) over time, which will inevitably lead to success. 
Audience validation and adjustment 
You already have 100,000 subscribers. You need to check and know who your audience is, why they are watching you. 
Based on this data, you can choose the right direction for the further development of the channel, which will allow you to collect not just 1 million subscribers, but 1,000,000 engaged users - fans who will be involved in your topic. Supposing you have an active, focused audience. In that case, various brands related to your channel's topic will line up to give you their money for advertising their brand, which will generate additional income for you. 
If you understand that your audience is very narrowly focused and suspect that it is almost impossible to gain 1 million subscribers in your niche, we have another solution. 
You need to slightly change the content (or create additional content) that will be understandable to a broader range of viewers but will be related to the main current topic of the channel.
This way, you will have a better chance of reaching your goal. 
Use what already works
Analyze your competitors worldwide, take as a basis the ideas that are already working and use these ideas, improve them and personalize them. Since they have already been tested, there is a good chance that they will work for you as well. They will be able to diversify your content and will act as additional traffic sources for your channel. Such content will serve as proven "fuel" for the channel. 
The idea is not subject to copyright!
Quality and uniqueness of the content
To become a leader, using other people's ideas is not enough. Your content should stand out from the crowd. It must differ in everything: in the heroes of the channel, the editing, the presentation of the material, activities with subscribers, your skills, etc. 
Uniqueness is good, but don't forget that the quality of content is constantly growing; viewers are becoming more spoiled and demanding about the quality of sound, pictures, etc. Therefore, you continuously need to work on this to compete at the same level as leaders in your niche and attract their viewers. This is the only way you can reach 1 million subscribers. 
Create content that will amaze your audience
For example, no one will be interested in watching you dance to a widespread song. But put yourself in some unusual conditions and dance to the same song for 10 hours in a row, adhering to the conditions that you set for yourself (challenge). It will be exciting and will attract attention. Exaggerate! Do what no one does in everyday life!
Create your own trend
If you have completed all of the above actions and everything works out for you, it's time to create your own trend, which can become the locomotive of the channel. It's not easy, but you need to try and at some point, you'll succeed and become a spectacular YouTuber.
All in all, there are many different points on which the success of a channel depends. The YouTube button is an achievable goal if you put in the maximum effort to have it.