Understanding the work principles of YouTube's algorithm and how it ranks videos is essential for creators' growth on the platform. In this article, we will dive deep into the factors that have the power to determine the future of your content on YouTube and explore how the platform algorithm has evolved over the years. Hop on and get ready for some revelations!
What is the YouTube Algorithm?
RankBrain is a machine learning-based search engine algorithm that helps process search queries and provides more relevant results based on users' interests on YouTube. It understands and processes both search queries and user satisfaction based on how users interact with search results. RankBrain is focused on viewers' interests to offer the most relevant content and to encourage them to spend more time on the platform.
How the YouTube Algorithm Works
The YouTube algorithm is based on a users' search and view history. Let's say you start looking for content about cars. After a while, YouTube will start suggesting similar videos to you. The algorithm determines what a video is about by using metadata: keywords in a video title, a description, and a thumbnail.

Metadata is not all that matters though. YouTube's priority is to make users' time on the platform truly enjoyable and advantageous. For this purpose, the algorithm also analyzes viewers' engagement: how much time a user spent watching a video and whether they liked or commented on it.

There are 6 main ways users can find your content.
Search
RankBrain does two things in terms of users' search: understands search queries and how users interact with search results.

Users no longer need to write in detail what they want to find. For example, if you want to find a meme with a laughing Mexican, there's no need to write the entire video title. It's enough to just type, "laughing Mexican", and the algorithm will find what you're looking for.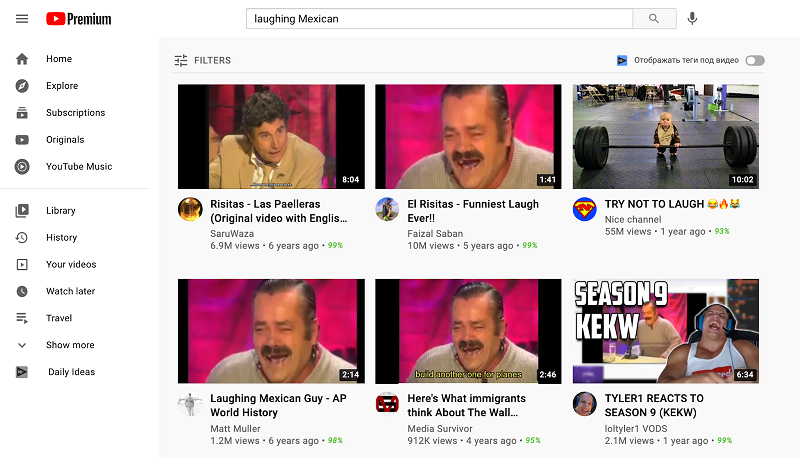 The better the video and its metadata match the request, the higher it appears on the search list. It's also important how often users go to a video in the search results and how they interact with it.

For instance, a user searches for a video on how to complete a mission in a game. Videos with the most relevant title, description, and thumbnail will have the best chance to be chosen by users. But, if your content is low quality or doesn't match the metadata, viewers will not watch your video to the end, and the algorithm will stop recommending this video despite great metadata optimization.
Suggested Videos
When suggesting videos in the Next section, YouTube uses other tactics. The algorithm will suggest content that users are interested in at this very moment. For example, you're usually interested in cars, travel, and cooking, and mostly watch content on these topics, but today you decided to listen to music. YouTube will immediately start suggesting music videos.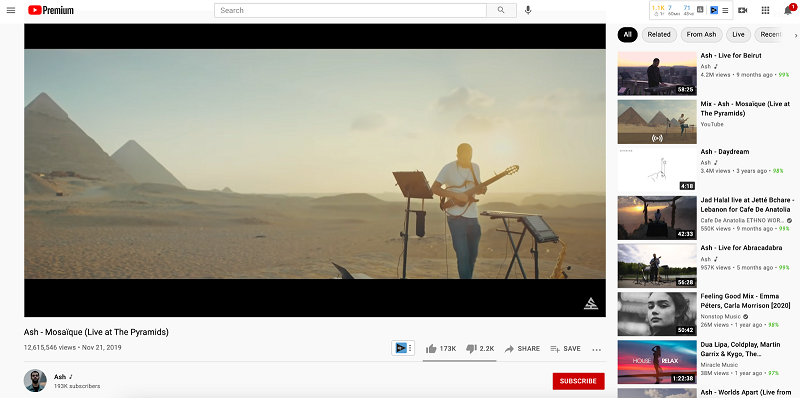 Home
When a user opens a YouTube website or app, they see a home page with videos that the algorithm thinks would be of interest to them. Often, this choice is very wide since the algorithm has not yet figured out what the user will be interested in today. Therefore, it offers content according to the following ranking principle: what may be of interest + what the user usually watches.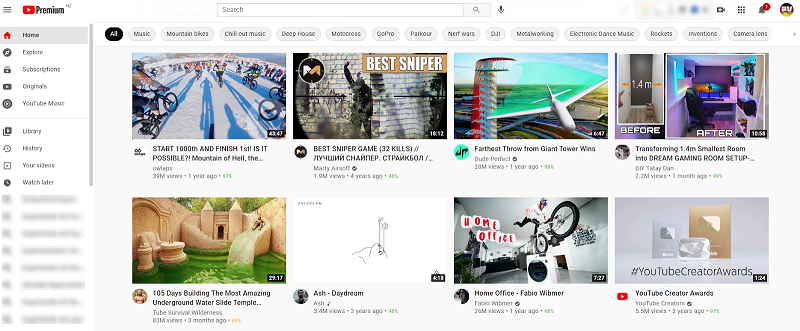 The first category includes videos with excellent performance in the following criteria: click-through rate (CTR), watch time, average views, likes and dislikes, as well as survey feedback. After you upload a video, the algorithm will first show it to the smaller audience on the home page. If viewers interact well with your video, YouTube will show it to more users on the home page. And vice versa, if users don't respond well to your video, it will be further limited to a wider audience.

The second category includes personalized videos. The algorithm chooses videos based on the viewing history of every user. If a user prefers specific topics or watches videos on specific channels, videos on similar topics or videos from the same channels will appear on their YouTube home page. Interests can change, and the algorithm is sensitive to any changes in viewers' behavior.
Trending
Until 2020, YouTube placed the Trending tab right on its home page. It was later moved to the Explore section. In this section, YouTube displays a list of trending videos that are updated every 15 minutes. The trending content isn't personalized and the list contains videos trending worldwide.

When deciding whether to add a video to the Trending section, the platform mostly considers view count and how quickly the video is generating views. The platform splits Trending videos into 4 categories: Now, Music, Gaming, and Movies.
Subscriptions
The number of subscribers who watch your videos right after they're published is another important factor. This metric is called view velocity and it plays a vital role in the ranking of your videos. The more active your subscribers are, the higher your videos rank on the platform.
Notifications
Enabling notifications for when a channel posts new content is entirely the users' choice. This is another reason to consistently create high-quality and useful content that people look forward to with anticipation.
How YouTube Algorithms Have Evolved
2005-2012: The era of clickbait and cheating.
During these years, the algorithm was pretty simple: when users clicked on a video, it meant it was interesting and was promoted more. But eventually, authors began endlessly reloading the video page and used titles and thumbnails that didn't match the video content. Viewers felt deceived and dissatisfied, and the platform was forced to change the algorithm.
2012-2015: The era of watch time.
The platform began focusing on quality metrics. If users spent a lot of time watching a video that meant they liked the content and would inevitably spend more time on the platform. So the algorithm started to track how much time a user spent watching a video. As a result, some creators focused on creating short videos so that users would watch the entire video and thus generate a higher retention rate. Other authors would create longer videos to increase the channel watch time.
YouTube disapproved of these tactics and responded by focusing on overall viewer satisfaction, including "measuring likes and dislikes, survey feedback, and time well spent" on each video.
2016 - today: The era of personalized content and protection from dangerous content.
In 2016, YouTube released a document describing some of the working mechanisms of their AI: Deep Neural Networks for YouTube Recommendations.


The new algorithm now focuses on every single user and their interests. The system recommends exactly what every particular user is interested in and not just any content that was watched by the wider audience. This approach proved to be effective, and in 2018, YouTube Director of Product Management stated that 70% of watch time is generated by videos that the algorithm recommends.
Along with this, YouTube indicated that now, "The safety of our authors, viewers, and partners is our top priority." Creators received updated YouTube Community Guidelines and strict policies for violations leading up to account termination.
The YouTube Algorithm 2021: How to Make It Work for You
In the early days, YouTube content was minimal and users had to search the platform for interesting and relevant videos. Now, the situation is completely opposite: there's so much content that practically every user simply chooses between options offered by the algorithm.
Therefore, the algorithm now has two goals:
To find the most relevant and interesting content for every individual user.
To motivate a user to watch more content.
How to make the platform work for you? Discover and create content that viewers like. If your audience enjoys your content, YouTube will start recommending it. YouTube monitors your content for violations only (spam, sensitive content, etc.). If you don't have violations on your channel, the number of views on your channel will depend on three main factors:
Content quality
Video optimization
The size of your potential audience
There is a popular myth that if you use some secret techniques and tools, you will achieve guaranteed success on YouTube. But by examining the history of YouTube's algorithm, you can see that all the ways used to bypass the algorithm did not work for long. And the fact is that in the long run, quality content always wins, as it is the viewer who promotes it.
How to Work with YouTube Algorithm Changes in 2021
In recent years, YouTube has been striving to eliminate negative content, especially in the Kids segment. On July 13, the platform introduced updates proving that high quality, useful, interesting, and friendly content is their priority. To learn more about how kids creators work with these updates, see our video guide here.

YouTube has introduced a new channel rating system. If a channel has a lot of violations or borderline or sensitive content on the channel, such content may get a "low" mark and stop getting promoted. Also, in our experience, we've seen that if a channel has a lot of 18+ videos or videos with yellow monetization icons (limited display of ads, since the video does not fully comply with the platform policies), it will be less promoted.
YouTube Algorithm Trends 2021-2022
In general, there is nothing fundamentally new. YouTube has long been declaring that they want only safe, positive, and useful content. The only question is, when will the YouTube algorithm learn to determine which content is high quality and which one exists only because YouTube did not have the technical ability to find such content. The algorithm has evolved a lot over the years and now ensures compliance with the policies and guidelines it declared years ago, with minor modifications and changes.

In the long run, only high-quality content that complies with YouTube Guidelines has a future on the platform. And given the fact that the platform has just begun introducing new algorithm changes related to quality control, creators who have long been on YouTube have just enough time to adapt to these changes. Creators should work on their content to align it with YouTube quality standards while they still have time!