YouTube Copyright laws are one of the forms of protection for intellectual property. It differs from trademarks, which prohibit brand names, slogans, logos, and other characteristic symbols from being used by third parties for specific purposes.
Any video on a channel in the YouTube community is an audiovisual work, and each creator is the author and copyright holder. According to the law, only the copyright holder has the right to manage it: post it on the channel, and consent to its use including for inclusion in other works.
Copyright applies to the following types of content:
Audiovisual works (TV shows, films, online videos, etc.);
Sound recordings and musical compositions;
Written works (lectures, articles, books, musical notations, etc.);
Works of fine art (paintings, posters, advertisements, etc.);
Video games and computer programs;
Dramatic works (plays, musicals, etc.).
Material that is not protected by copyright:
Ideas
Facts
Intangible processes
Titles
Do not forget that each work has an author or copyright holder, and these are not only individuals but also companies.
Even if the author of the material died, it doesn't mean that people can freely use their content.
For 70 years after the author's death, the copyright holders are their heirs. If the work was published only after the author's death, then 70 years begin only from January 1 of the year following the year of the first publication of the author.
YouTube uses both human resources and artificial intelligence to combat violations. The content service considers complaints from viewers and appeals from channel authors. Artificial intelligence automatically examines all videos for copyright infringement.
When searching for videos, the systems use perceptual hash algorithms: content with violations are detected by matches in titles, keywords, meta tags, descriptions. Of course, YouTube is not limited to just these parameters. Its algorithms are complex and not easily outsmarted. 
Consequences of YouTube Copyright Violation
Any video on a channel in the YouTube community is an audiovisual work, and each creator is the author and copyright holder. According to the law, only the copyright holder has the right to its use: post it on the channel, consent to its use, including for inclusion in other works.
Several functions are responsible for maintaining copyrights on YouTube.
Content ID (find additional information in this article);
Copyright Infringement Notice Form. Any author who sees that their work is being used on YouTube without proper permission can report this using a particular form;
YouTube Content Verification Program Application. With this solution, any user can automate the notification of copyright infringement and block videos of violators.
Recently, YouTube introduced a new video verification tool available in YouTube Studio called "Checks."
YouTube announced that users will now be able to check their videos for copyright infringement before publishing.
"Checks" will prompt users if their video violates copyright or adverts on the service. Thus, authors will avoid getting a video removed or not receiving revenue from advertising due to any non-compliance with YouTube rules. The content will be verified using the company's proprietary copyright identification system, which will advise creators on how they can change the video or which part should be removed to avoid YouTube infringement.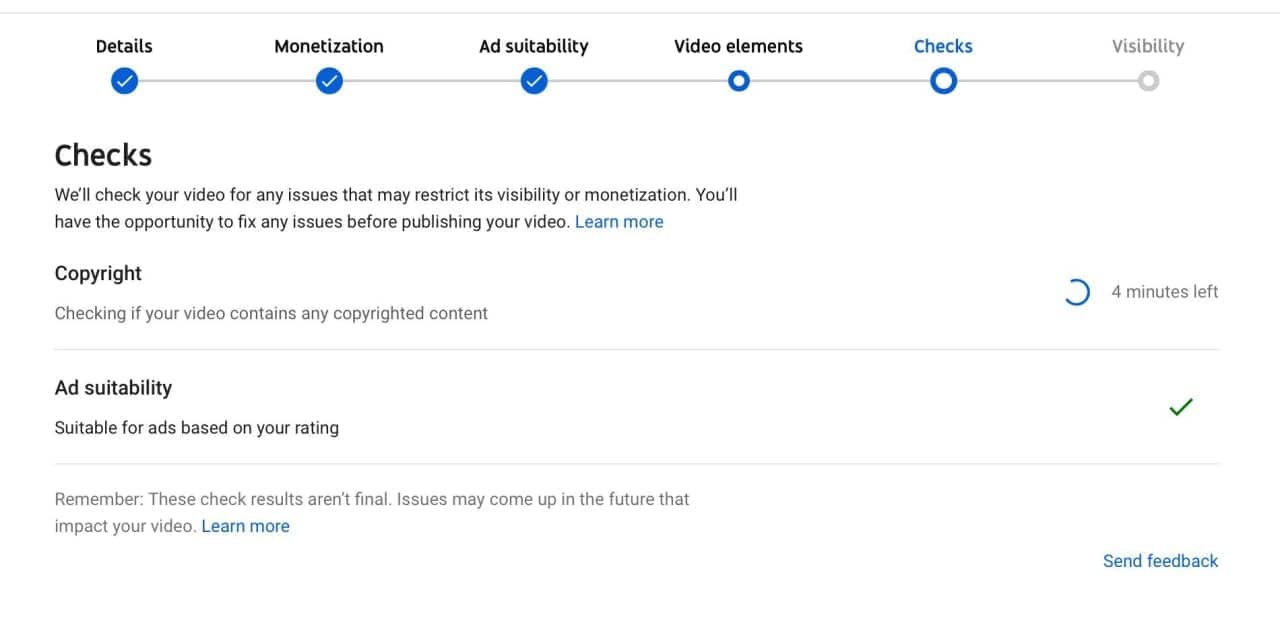 This tool analyzes the video after a user submits it for publication.
It's worth noting that the copyright owner can always file a complaint about your video, even if you:
Indicated the copyright holder (in the video itself, its title, or description);
Did not monetize a video that violates copyright;
Found related videos on YouTube;
Bought content from iTunes or other music services on CD or DVD;
Recorded a fragment of a TV show, song, movie, or radio content;
Have indicated that you do not intend to infringe on the copyrights of other users.
Why can YouTube block a channel?
The official rules for posting content are described in the Youtube help section. If a user abuses this policy, the channel can be blocked either immediately or after 3 warnings (strikes), depending on the severity of the violation. After receiving the first and second strikes, the channel's reputation deteriorates, and the functionality of the personal account may be limited. For example, after the first warning, the channel loses the ability to broadcast live.
After the account is blocked, the user receives the following notification: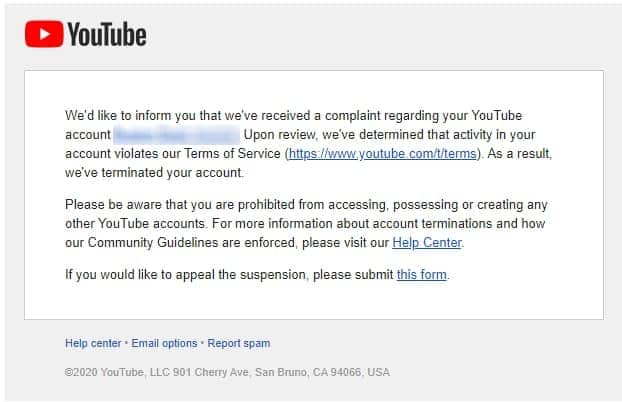 How to complain about content that infringes on your copyright? 
YouTube provides several options for how a creator can file a complaint against a user who uses your content: 
A creator can complain about a video using a three dots icon below the video;
Step 1

Step 2

Step 3



YouTube Studio has a Copyright tool. The system looks for a similar video in the YouTube library. The creator, through the Studio's functionality, can immediately strike a video that uses their material;

A creator can use the services of companies that have access to the Content ID system. 
How can I avoid receiving a complaint from another user?
If you want to use the material of another user - contact them and ask for permission;
Use existing content to give your video new meaning. If the content is useful, it will be considered fair use.
When is Fair Use possible?
Fair use is a legal concept that, in some cases, allows the reuse of copyrighted material without obtaining special permission from the copyright holder.
Each country has its own definition of Fair Use.
In the United States, fair use is determined by a judge, evaluating each case according to four criteria.
How and what the materials are used for, such as educational purposes or to generate income. Usually, the courts check whether the work is derivative, whether the original design and content have been changed, or whether the user copied the content. Most likely, commercial use will not be considered fair, although there are ways to make a profit from such a video without infringing anyone's rights.
What is the essence of copyrighted work? If the source material is based on well-known facts and is not fiction, its use in a derivative work may well be considered fair.
The size and significance of the fragment used in relation to the entire copyrighted work. If only a tiny portion is copied, such use will be considered fair use rather than if you have copied a significant part of the original work. However, if the passage contains the main idea of ​​the original work, then the court can take the side of the copyright holder.
The resulting effect that using protected materials has on the potential market or income of the copyright holder. The original work is usually not considered in good faith if the copyright holder has lost profits as a result.
How to avoid getting a strike?
Here are some valuable tips to help you protect the content being used and avoid bans and strikes for using someone's intellectual property:
Use music exclusively from your production or the YouTube audio library;
When using images from the web that have copyright or watermark marks, never erase them;
If you use someone else's content, leaving a link to it under the video will not necessarily save you from a violation;
The crediting of the author is not automatic permission to use their content. One exception is a video with translations.
Remember, you can use someone else's content if your video is a critical review. At the same time, if you review the game, you can get a ban due to YouTube's music copyright policy. 
Also, if you have not enabled monetization and do not use videos for commercial purposes, the copyright holder can still strike your video.
How to monetize content using protected music?
There are some music types that any user can use without any legal consequences from the copyright holder. These include:
Musical compositions, the authorship of which has not been proved (folk art);
National anthems.
Any video blogger can use the services of the YouTube music library which holds free compositions and sound effects that you can freely use. However, there are cases when you need to indicate the author.
You can also buy music from online stores or copyright holders directly. But there is also a risk here. If you bought a non-exclusive right to the music, the copyright holder could always change the usage policy. 
What to do if you get a strike?
If you receive a copyright infringement warning, you will have to wait 3 months before it disappears. If you are sure you are without fault, then be ready to file an appeal. Do not spam the administration with letters - fill out the form once and wait for a response. If you are refused, you can re-apply only after 60 days.
If the warning is related to copyright, then there are three options:
Strike disappears by itself after 90 days, but only if you take a course on Youtube copyright;
Contact the user (the person who submitted the strike is always indicated) and ask them to withdraw the complaint;
Are you the content author yourself? Submit a counter-notification. But only if you can prove your authorship.
Now you know all about how YouTube copyright works and how to use content on YouTube without copyright infringement. Do not forget that all copyright materials fall under the Digital Millennium Copyright Act (DMCA) and are protected by the law.
Create, inform, entertain, monetize, and promote video content without getting into disputes with copyright holders!