What is the creator economy? How exactly did this concept change the creator industry, what does it take these days to turn your content into a business, and how have we been helping creators scale their influence in the new digital era? Let's find out below!
If you've been keeping track of the digital space, then you know that content creation has gone a long way — from simply a trend to a whole new industry known as the creator economy, with an estimated worth of $800 million. 
Now, more than 50 million people identify as creators, turning content into a pricey and exclusive product — and that's just the beginning. As marketers and brands keep investing in partnerships with creators and new income opportunities arise, it becomes crystal clear that the creators' economy will continue to thrive. 
At this point, content is not just content but business, with creators becoming full-fledged businessmen and women who ensure business' growth. Which brings us to a question: how do you make your business work in these new conditions?
That's where media agencies step in, developing services and solutions that offer creators new income opportunities and potential for business growth. And among them, AIR Media-Tech is leading the game. 
How so? Or a bit more about AIR Media-Tech
Founded in Canada by Ukrainians, AIR Media-Tech is an international media company and the world's third-largest YouTube partner. It has been on the digital market for over 11 years, developing advanced services for creators and brands.
We started in 2010 as a multichannel network with a team of just 8. But as time went on, we chose to expand our reach and number of services and have grown into the world's first and largest ecosystem with a mission to help create high-quality content that changes the world for the better.
We now have over 200 team members helping develop 3000+ channels and 217 global brands in 53 countries worldwide, with total monthly traffic of a trillion views. Our clients include such giants as Kids Diana Show, Heidi & Zidane, Lady Diana, and Boram Tube.
With 50+ advanced services, we offer personalized solutions for all kinds of needs — that range from hack protection and video optimization to channel design and content translation. And here's just a small example; one of our creators saw a 100% increase in main channel views, a 100% increase in income, and +97K from views on translated channels by using our Earn More services for less than a year.
That said, we want to help creators of all sizes gain new skills, keep up with the latest digital trends and connect with other creators to develop on the platform. That's why we also launched AIR Influencer MeetUps — free online events where creators can learn more about growing their channels and get some pro tips from leading experts and fellow influencers. For example, we just recently held a meetup on going global with gaming content with one of our partners — top Brawl Stars blogger MASKIM (you can find it on our YouTube channel with other meetups). 
And we don't stop there — constantly participating in VidCons worldwide, from Abu Dhabi to LA, we keep sharing our expertise and success stories with creators, brands, and their fans. 
But the most important thing is that our creators don't just grow with us. They're also able to take their business to the next level and find the most effective approach to succeeding on YouTube and beyond — whether they are made for kids creators, music artists, esport players, or game developers. There's no limit to scaling one's influence.   
How we do it
Influence scaling, huh? Sounds like a challenging task, we know. But that's exactly what we've been doing for years now — helping our partners reach new heights and grow their content's impact. How? By expanding their reach.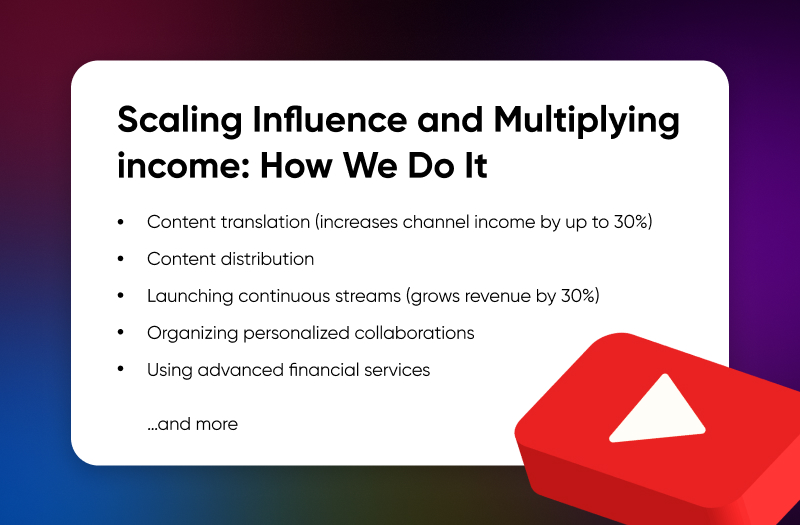 Our solutions specifically focus on reaching new audiences, going global, and, maximizing creators' revenue along the way. We do it by:
We approach expanding the impact our partners make from different angles, working in all possible directions — and are achieving impressive results. Just check this out: as of today, our creators already have 2415 silver buttons, 314 gold buttons, 30 diamond buttons, and 1 red diamond button on YouTube. 
One of the best examples is our partner Kids Diana Show — the world's biggest kids creator with 100M subscribers on her channel (surpassed only by mrBeast and PewDiePie) and that very ruby button we just talked about. 
She already has over 20 additional channels in other languages, each a full-fledged business with a large audience — making Kids Diana Show a kids favorite worldwide. Add these 100M+ subscribers to 100M+ subscribers on the creator's main channel, and you'll have an impressive number of over 200M fans globally. 
Meanwhile, Lady Diana, another partner of ours, has already launched three mobile games. One of them, Diana's City, boasts an impressive 3.5M downloads within just 6 weeks and over 7M downloads globally. 
At the end of the day, turning content into a brand and expanding its horizons is all about finding the right direction and the best approach. 
If you're looking for a way to grow your reach and influence or simply need advice on channel growth, AIR is here to help. You can always visit air.io to learn more, or email us at my@air.io.