The VidCon 2023 in sunny Anaheim, California, is officially over! This year, VidCon brought together around 55,000 participants. Industry insiders, dedicated fans, and popular content creators like Dream, Karl Jacobs, Chad Chad, and many others joined the event for an unforgettable four days of panels, networking opportunities, and endless inspiration.
All the good stuff was there, from the insights on going global to the social responsibility and the impact of AI on the creator economy.
Artificial Intelligence was the trending topic across numerous panels. Creators openly shared their go-to AI tools that enhance the creative process, such as our partner Vidby for translation and dubbing in 70 languages, Descript for video and audio editing, MidJourney for image and thumbnail generation, AudioPen for converting audio to text, and many other innovative solutions.
But AI was just part of the excitement at this year's event. Now, let's dive into the key takeaways of VidCon 2023 with AIR Media-Tech.
Entertainment Gone too Far: From Likes to Responsibility
In this fun-filled era, a significant number of people flock to TikTok and other short-form platforms purely for entertainment, often overlooking the chance to contribute towards solving the challenges that humanity faces. During an emotionally charged presentation at VidCon, Co-Founder and Managing Partner at AIR Media Tech, Sergii Bielousov, and Head of Impact and Global Business Development at AIR Media Tech, Vira Slyvinska, urgently compelled the public to avoid being distracted by the mindless rabbit holes of a meme-centric internet.
In a world where attention is scarce, it is crucial that we focus on solving global problems that impact us all, like the war in Ukraine. Unfortunately, there has been a recent decline in attention towards the topic of Ukraine. This should be changed! We need the attention and support of the global community to accelerate the path of Ukraine to victory.
To facilitate this, AIR Media Tech introduced the Brave Voices platform, an impactful initiative that empowers creators worldwide to raise their voices for Ukraine. The mission of Brave Voices is to inspire and support content creators and companies to visit Ukraine and uncover its cultural richness for themselves and their audiences. Also, this platform helps to seamlessly create original content about the diverse aspects of Ukrainian life from a remote standpoint.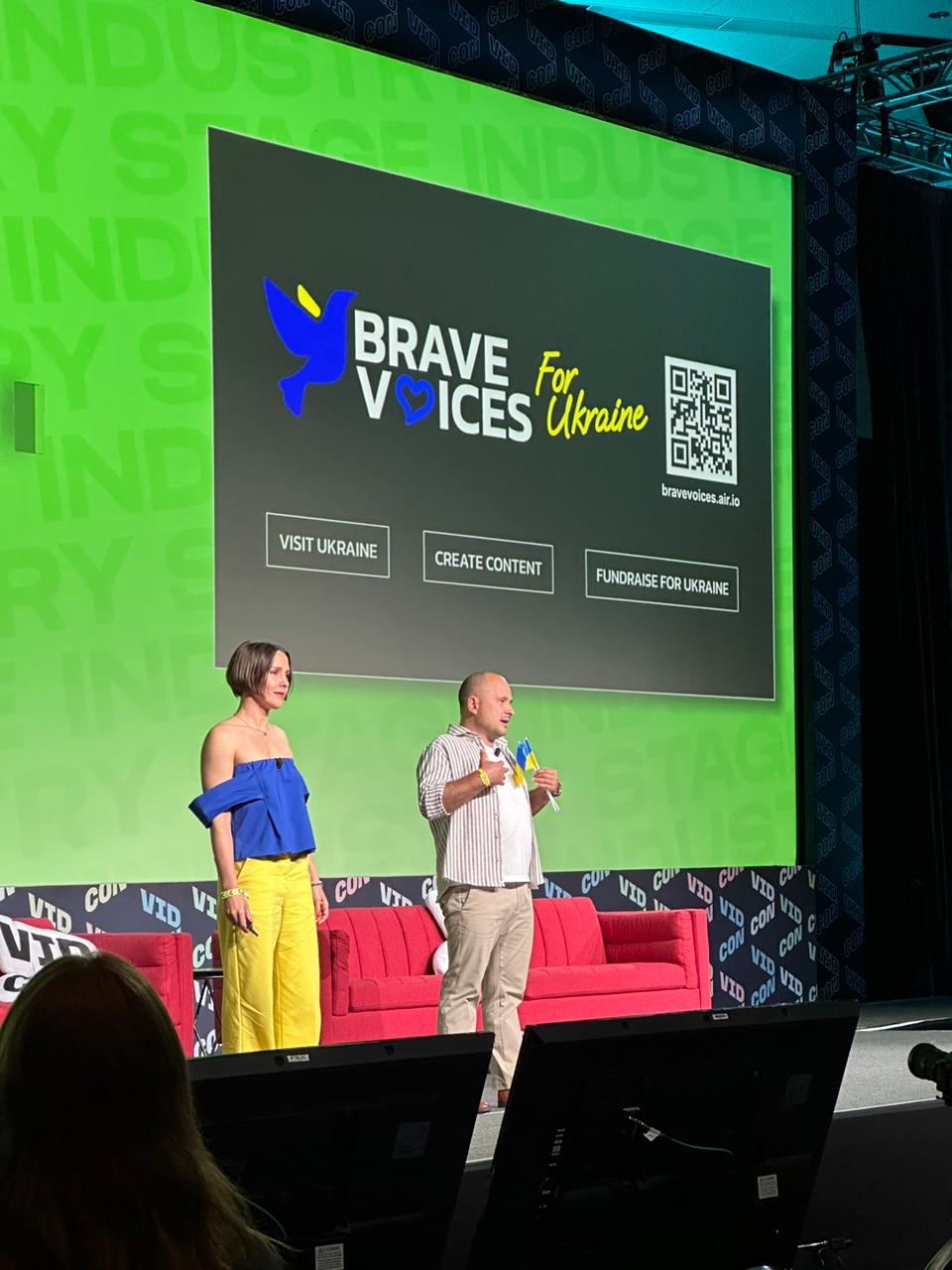 "We are looking for new voices that are as brave as Ukraine" - Sergii Bielousov, Co-Founder, Managing Partner at AIR Media Tech
Moreover, the President of Ukraine, Volodymyr Zelensky, delivered a significant address during this presentation. It was a touching, yet motivating speech, and a sobering reminder not to lose sight of the tragedies that should unite the world in solidarity.
Speak to the World: Translation and the AI Advancement
One exciting topic that got everyone talking was how we might finally crack the language barrier. Vira Slyvinska from AIR Media Tech added to that excitement by sharing eye-opening insights into the opportunities of content translation and localization.
During the presentation, she highlighted that there is a vast YouTube audience of 1.45 billion English speakers, with 12.2 million creators competing for their attention. In contrast, there are 602 million Hindi speakers, 548 million Spanish speakers, 274 million Arabic speakers, and numerous other language segments with significantly lower competition for viewer attention. These stats show the incredible potential for creators to make it big in this competitive market simply by translating their content.
When it comes to scaling through translation, creators have three key strategies to consider. First up, you can start by adding subtitles and translating metadata on your main channel, as 57% of people prefer watching videos with subtitles. The next progression could involve offering multi-language audio options. And if you really want to go all out, the ultimate move is to create fully translated and localized channels.
Thanks to the progress of AI technologies, translation is now becoming easier. At VidCon, YouTube announced their collaboration with the Aloud team from Google's Area 120 incubator, promising accurate translations that capture creators' voice and style by 2024. Meta introduced Voicebox, an AI-powered technology that provides translated audio in six languages.
​​Translation was also the central theme during the Mentorship Session at VidCon, where Vira Slyvinska and Iryna Okishor-Lazareva shared personalized hacks and advice to make the translation process significantly easier for creators.
Income Diversification is Key for Long-term Growth
Another hot topic that stole the spotlight was the diversification of revenue streams. For aspiring creators who aim to turn their passion into a sustainable income stream, diversification is the secret ingredient. It implies scaling content across multiple platforms, but that's not just it. Creators should also be adaptable in their content formats, flexibly transitioning between short-form and long-form content and explore all earning opportunities the platforms provide.
During the event, a prominent musician and our partner, Waterflame, showcased how revenue stream diversification can benefit music creators. One of the key messages of his speech was that music creators often overlook numerous earning possibilities, particularly those tied to their music rights. One such example is when AIR Media Tech assisted Waterflame in transitioning his video rights to music video rights, resulting in a doubling of his income within a month.
"Live solely on streaming, an enigma for musicians" - Waterflame, self-taught video game composer and sound designer.
Another way to increase earnings for music artists is by getting your music into the YouTube Content ID system, which allows you to collect royalties. Additionally, instead of exclusively signing with labels, Waterflame suggests considering Sync Licensing and not missing out on registering with your country's PRO to maximize your royalties.
Overall, diversifying revenue streams presents creators worldwide, not just musicians, with opportunities for sustainable income growth, and YouTube Certified Partners like AIR Media Tech can efficiently assist you in achieving this goal.
A lot more was happening at VidCon 2023, with a multitude of crucial topics for creators being raised. It was a sensational hub of inspiration and innovation, spotlighting the exciting potential of social responsibility, AI technologies, and endless growth possibilities. With eager anticipation, we look forward to what the next VidCon has in store for us!