Discover the ultimate lineup of creator conferences in Autumn 2023 ✔️ From content marketing to video editing, network and learn with industry experts. Don't miss out!
Here's a thing we know for sure: conferences are a goldmine for creators. They're all about collaborations, networking, and life hacks to supercharge your growth and impact. If you're ready to tap into this treasure in Autumn 2023, we've got the perfect list of events for you:
Content Marketing World

: Washington, D.C., Sept. 27-28, 2023

VidCon

: Baltimore, Sept. 28 - Oct. 1, 2023

VidSummit

: Dallas, Oct. 3-5, 2023

Adobe Max

: Los Angeles & Online, Oct. 10-12, 2023

TwitchCon

: Las Vegas, Oct. 20-22, 2023

Buffer Festival

: Toronto, Nov. 10–12, 2023
Now, let's dive into the details! Mark your calendars for this lineup of creator conferences.
Content Marketing World
Content Marketing World lasts three days and provides 150+ expert-led sessions. It's a global gathering for marketing leaders, content creators, agencies, and creative pros. In 2023, expect Elizabeth Banks and other notable figures in content marketing and the creator economy.
VidCon
We have a special fondness for VidCon events. Vidcon 2023 in Anaheim, São Paulo, and Mexico have already passed and proved to be incredible for creators. Here are the key takeaways from VidCon in São Paulo, some insights from Vidcon Anaheim, and exciting news: VidCon Baltimore 2023 is just around the corner!
It is one of the world's largest gatherings for online video enthusiasts. Loads of amazing creators like Merrick Hanna, Basement Gang, Peet Montzingo, Caleb Simpson, Cristian Dennis, and a bunch of others are already on the VidCon Baltimore 2023 participant list. AIR Media Tech will be at VidCon Baltimore 2023, so let's meet up!
VidSummit
VidSummit is a video creator conference. It's all about the business of online video: channel growth, trends, and making money. Attendees get an insider's peek into the industry. This year marks its 10th edition, and it's drawing big names like MrBeast, along with keynote speakers PrestonPlayz and Michelle Khere.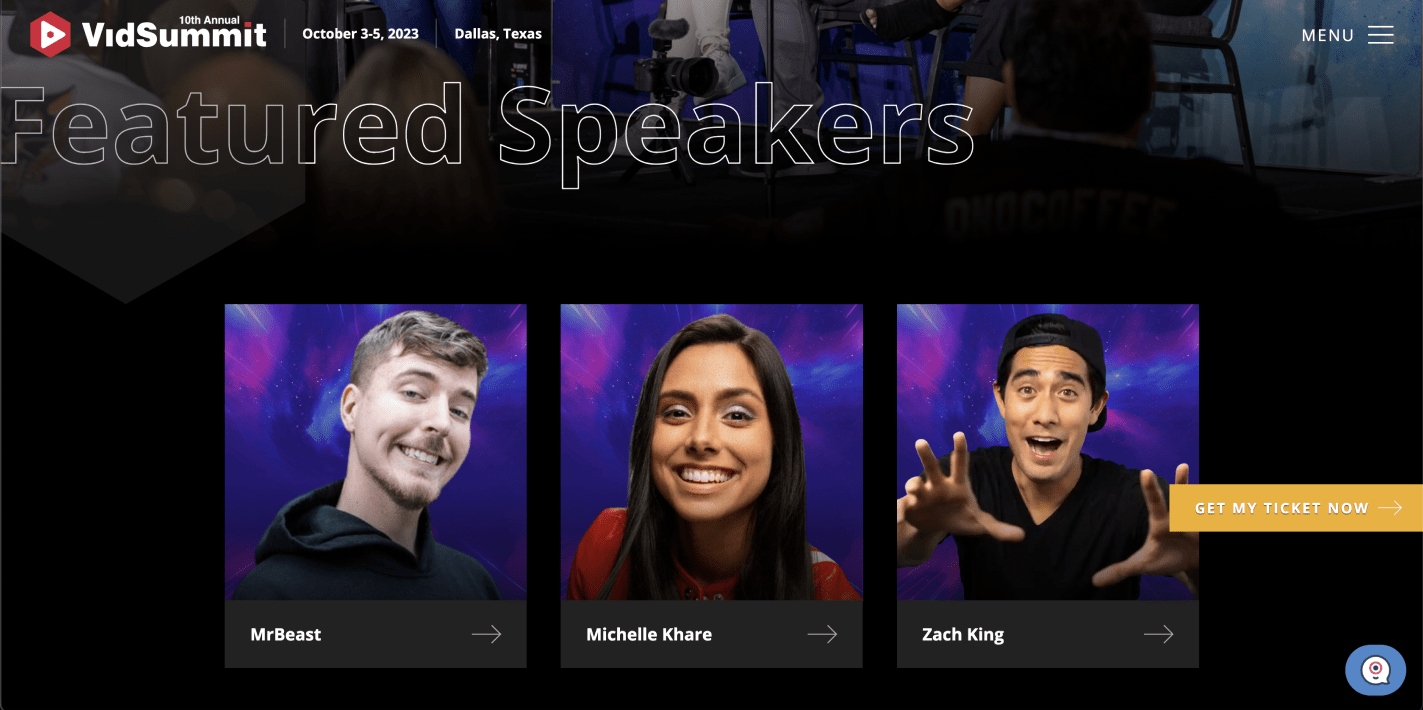 Image Source: VidSummit
Adobe MAX
Adobe Max is for those dead serious about video editing. Run by Adobe, it's a creative conference highlighting the latest innovations and features. Attendees gain valuable skills in photo manipulation, video editing, UX/UI, and graphic design through informative sessions.
TwitchCon
TwitchCon in Las Vegas is the go-to spot for gaming creators worldwide. Twitch streamers and fans gather to dive into gaming's hottest trends. Don't miss out on creators like Peterpark, Sydeon, QuarterJade, AriaSaki, BigBossBoze, and more at TwitchCon 2023 – it's worth considering attending!
Image Source: TwitchCon
Buffer Festival
The Buffer Festival marks its 10th anniversary this year. It's the world's largest digital-first film event founded by YouTube creators Corrado Coia, Samantha Fall, and Corey Vidal. It focuses on video creators and filmmakers, emphasizing artistic and innovative videography, and attracting skilled filmmakers in scripting, shooting, and editing.
Before you dive into any of these events, let us equip you with a cheat sheet on how to maximize your experience at any event you decide to attend!
Become a Networker

: Building connections should be your top priority, before, during, and after the event. Find your tribe on social media, and forums, or why not plan a coffee date before the event?

Create Content on the Go!

Events can be a goldmine for content ideas. So, grab this opportunity to let your creativity flow and produce exciting content. Vlogs, collabs, reviews, travel videos, you name it!

Dive In Head First

: Content creation events can be overwhelming, but the key is to dive in! Identify the meet-ups, panel discussions, and after-parties you're interested in, and schedule them accordingly to get the best ROI for your time and money!

Tag-Team with Other Creators:

Events are a hotbed for influential creators. Why not tap into this and collaborate to create content for your channel? It's a win-win, as you both get to grow your audiences. Remember tip #1, and plan your collabs ahead of time!

Woo the Brands

: Getting a brand's backing can skyrocket your content creation journey. So, put on your charming best, and connect with brand representatives at the event.

Engage with the event on social media

: This strategy not only allows you to connect with more people but also gives your channel maximum exposure.

Enjoy the experience and have fun

! Soak in the experience, learn as much as you can, and most importantly, enjoy the ride!
What's even more important? Give us a follow on Instagram! It's where we share insights from fantastic creator conferences and the latest life hacks, expert tips, and services to turbocharge your YouTube channel's growth!