AIR Media-Tech is a global company that creates and distributes content to improve people's lives on digital platforms. In short, we are a YouTube Consulting Provider.
This article is about our video consulting - how we help grow channels, what problems we solve, and what services we provide.
Why Work With YouTube Сonsultation Services?
You are an expert in the business field where you work, but there are many more things to know before creating videos and boosting a channel. It's not possible to know everything, so we concentrate on excelling in the area of marketing. We are a YouTube Certified Partner since 2011 which means we know all the traps and pitfalls of YouTube Marketing. 
YouTube consultation draws on the experience of experts who have helped other companies gain millions of views. We've learned the best way to make a YouTube channel work. It took us years to build and refine the right skills to work with YouTube.
Regardless of the channel type or niche, our YouTube consultants know how to reach and grow the target audience. 
Thanks to our extensive work with the 3,000 bloggers in our network, our consulting services are now divided into three key areas of concern for creators.
Covering the basic needs
Consistent steady growth
More earnings
We realized that all creators first want to fulfill their basic needs. Based on data we've collected from creators who came to us for advice, everything that creators need the most is available in our BASIC package.
By joining the Ecosystem, creators automatically get access to advice on issues that interest them and also learn about new topics.
Services AIR Media-Tech Uses to Grow Channels
YouTube Consulting Provider developed approximately 35 advanced services to fulfill creators' needs. However, these services will now be divided into packages. One is already available on the website https://air.io/en/ce/basic. 
Basic Package - Includes 16 Services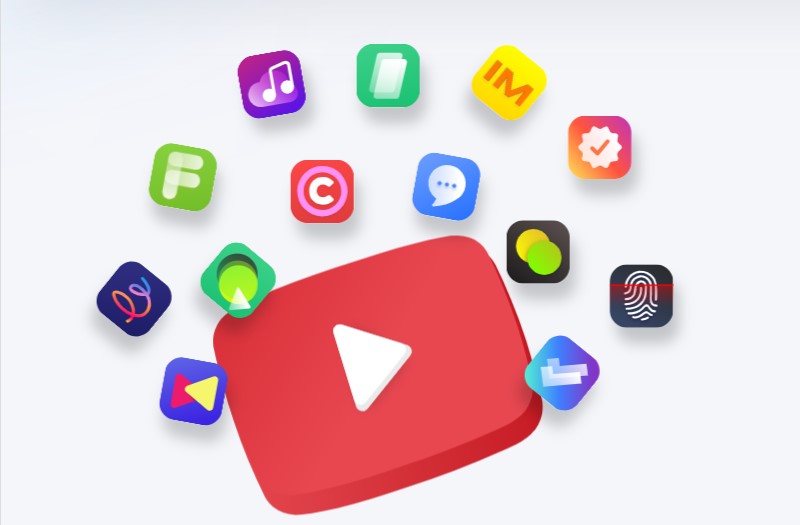 This package covers more than 90% of creators' essential needs. Services you can find inside the Basic Package: 
Financial Services to Increase Your Income
With AIR you are free to use any of your bank accounts and receive income in one of 16 currencies, including bitcoins. 
To boost your income we offer various services such as cross-platform content distribution. This service allows creators to crosspost their video from YouTube to other platforms such as Bilibili, Toutiao, Hakan Video, and Yandex Zen without any effort.
There is also an opportunity to earn extra money with an Affiliate Program. Bring other creators to the AIR Creators Ecosystem and receive your money reward. 
As a YouTube Consulting Service, we help our partners collaborate with other creators and organize Barter deals. This is one of the most popular ways to promote your channel and increase brand visibility on social media platforms.
Safety Features
Our video consultants take all the needed measures for your channel to be safe:
Hack protection 
Solving copyright strike issues 
Daily video moderation  
Quick support.
So, you can remain calm while our team always keeps an eye out. 
Special Tools & Learning
The digital world never stops developing and growing, so, creators have to keep up with the times and follow the trends. One of the main tasks of any YouTube consulting provider is to help you stay in the loop.
We organize online MeetUps on specific topics for creators to be aware of trends, to learn something new, gain new skills and ask experts questions. This is all free of charge! 
Also, all creators with the Basic package will have access to the Premium Music Library for setting the ideal soundtrack to videos on your channel. 
You'll have no difficulty adding thumbnails, banners, logos, etc., as we included one more useful tool - Design & Animation. 
After some time of promoting the channel, you need to measure the results and look at the statistics. The improvement tool included in the Basic package allows you to get auto-audits to improve the key metrics of your channel.
One more option available - Personal Dashboard. Here you get all services in one place and a full picture of your monthly statistics and payments.
Creators That Work With AIR
The AIR Creators Ecosystem includes about 3000 creators in 44 countries, who get 22B views a month in total.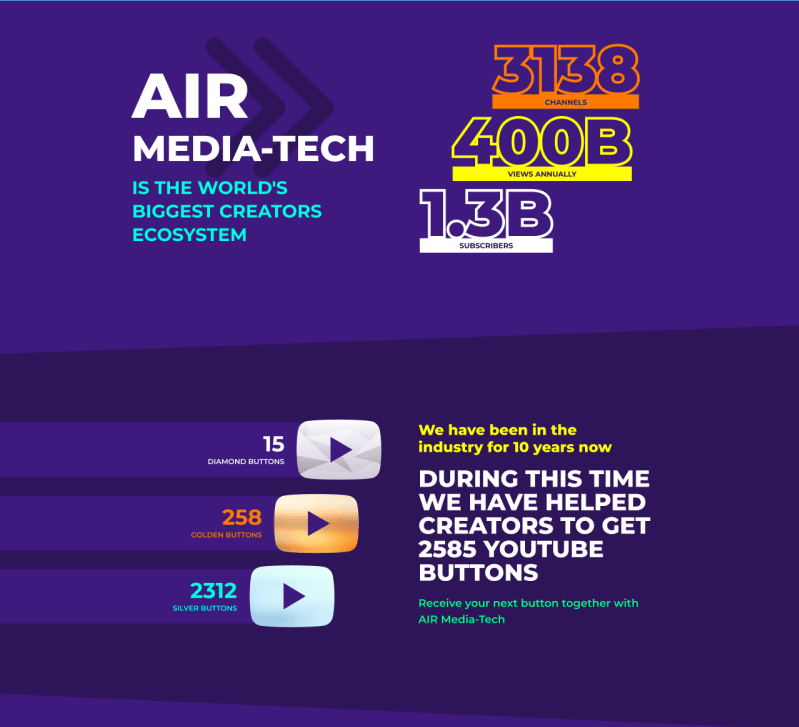 Some of our stars:
KidsDianasShow has 77M subscribers. It is now the most popular channel in the Kids niche.
Poznavatel channel - With 15.8M subscribers, this channel is dedicated to experiments, DIY, and adventures. 
Sasha Chistova is a diversified channel, where you can find videos on fashion, make-up, reviews, and more. Now, the channel has 1.5M subscribers and continues to grow.
How to Join Us
The only steps needed to start growing with AIR are to click the button, fill in the registration form, and follow the instructions sent to your email. 
Once you join AIR we make sure you have all the basics to start growing your channel and are fully equipped as a creator.
Now, it's our turn to act! After analyzing your channel, we will come up with a strategy and steps for implementation. Our support is available 24/7 to help with issues and questions.
Hope to see you in the AIR Creators Ecosystem and to work with your channel to make it profitable.